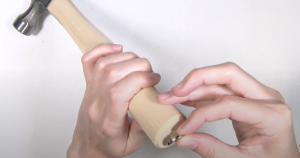 We are always telling our readers about the versatility of neodymium magnets. This week, we are going to share some of our favorite magnet hacks that you can try out in your home/office! Do you have your own favorite hack? Let us know on our social media pages! 
Using Magnets to Hang Up Posters
Our first hack is perfect for the college student in your life as they head back to campus after a well-deserved winter break. College students love personalizing their dorm rooms with posters of their favorite musicians, athletes, movie characters, and more. Hanging up these posters can be tedious and even lead to chipped paint or holes in the wall, both of which can cause them to lose their security deposit. 
To avoid any of these potential issues, simply mark where the corners of the poster would be and tape paper clips to the wall. Once you've done that, line up the poster and place some magnetic cylinders or cubes on top of it. We recommend ¼" x ¼" cylinders or ¼" cubes for your posters. The only downside is that you will not be able to hang a framed poster by using this method, but it is still a fantastic way to ensure an easy setup/teardown.
Adapted from: https://bit.ly/3HXlzxI
Magnetic Hammer
Avoid digging in your toolbox and repeated trips to the garage thanks to this magnetic hammer hack! Simply glue a disc magnet on the bottom of the hammer's handle and place your nails on it. After you do this, you can hammer in a nail and quickly grab the next one without missing a beat! 
We even made a video of this project that your can watch on our YouTube channel.
Closing a Bag of Chips
There is nothing like ending the day with your favorite show and a bag of chips. Once you get done snacking, you may need to use a rubber band or a chip clip to close your bag. There is, however, another option that includes magnets. This is a simple way to make sure your chips are sealed properly and helps prevent them from going stale. To complete this hack, just fold up your bag of chips and place magnetic blocks on each side. The pressure will keep the bag closed until you want to enjoy another snack!
Adapted from: https://bit.ly/3HZe1L1
Discover More Hacks With Apex Magnets
If you want to learn about other fun magnet hacks, read our other blogs. If you are ready to purchase the magnets you need to complete some of the projects listed above, browse the collection on our store.