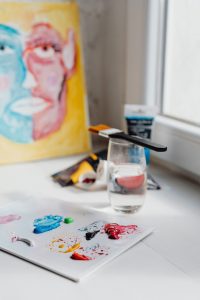 Most of us have painted our own portrait or that famous bowl of fruit in art class, and are looking for a relaxing art project that is far less complex. Next time inspiration strikes, leave the paintbrushes behind and experience a new way of creating art! A fun way to ward off the winter break boredom or an unforgettable girl's night in activity; all you need is a few simple supplies and a little imagination! Plus, you will have a handmade art piece to proudly display on your wall once you are finished. 
What You'll Need
Painting canvas (your choice of size)

Assorted paint colors

Large and small paper clip(s) 

Small magnet (we recommend the

12mm x 3mm Disc Neodymium Magnet

)

Drop clothes or covering for your painting surface 

Plastic/vinyl gloves 
Get Painting
Now it is time to create your masterpiece! Start by covering your tabletop or floor with a drop cloth or other protective material to ensure easy and mess-free cleanup. Next, squeeze a few drops of paint on your canvas and place a paperclip in the center. Once your paperclip is in place, take your magnet and center it underneath the canvas in line with your paperclip. Begin moving your magnet underneath the canvas in any direction to spread the paint around via the paperclip in the pattern of your choice. You can even try using different sizes of paper clips for various dimensions in your painting! Repeat this process with as many colors as you like and watch your painting come to life! 
Discover Magnets For DIY Projects or Home Hacks
Whether you are the queen of crafts or a certified master of all things DIY, our blog is the perfect place to find your next weekend project. Do you have a magnetic creation of your own? Share it with us on Facebook. You may see your work featured on our page! Get started with the right supplies by exploring our massive selection of in-stock and ready-to-ship magnets on our website!