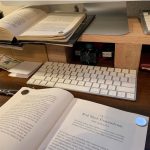 As we learned in November, our Apex magnets can be used in some of the most innovative and creative ways. Our favorite uses are those shared by our customers. We love seeing how they have found ways to use their magnets for more than what they initially had in mind when they first purchased them! Today, we're sharing a magnet hack for our bookworm customers and readers: a handy way to keep your book open to the right page!
Valued Apex customer Michael Richardson has been using our magnets for about four years. While most of his purchases are disc magnets that he uses as golf markers on putting greens or heavier cube magnets to hold heavy items on the refrigerators, he also discovered that his disc magnets are a perfect way to hold book pages in place!
"I've used the magnets as book page holder for several years now," Richardson told us in an email. "It all started when I purchased so many golf markers that I started using the discs for other purposes."
Richardson originally thought that he would need heavier discs with more pull, but he soon found that the weight of the magnets wasn't nearly as important as the pinching effect that magnets have. This effect is what prevents the pages of a book from sliding over one another and falling open.
Thank you for sharing your resourcefulness with us at Apex Magnets, Michael! Happy reading!
Use Apex Magnets Today
Have you made something creative with your Apex magnets? We want to hear from you! Contact us on our site or message us on Facebook for a chance to be featured in our "How They Used It" series.