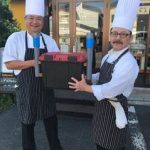 Yes, you read that correctly! All around the world, Apex serves customers who use our magnets in a variety of industries and applications. Customer satisfaction is our number one priority, no matter the distance. That is one of the reasons why it is so exciting to hear back from customers who took creative measures to utilize the strength of our product.
Chris Anest, a valued Apex customer, has been using our magnets on fishing boats off the coast of Japan. The magnets are mortised into PVC pipes to keep 8oz fishing lures in place while sailing through rough waters.
"I needed something strong," Anest told us in an email. "This setup works better because the lure does not whack the rod – that happens if you set the hook in a rod guide, which is the typical method everyone uses for fishing here. I, for one, did not wish to have a heavy lure damaging my $600 fishing pole."
Once he placed his order, we made sure his magnets were delivered in a timely fashion.
"I wish to express how happy I am with your product and service," he said. "The magnets I ordered on October 30th arrived on November 5th. You are speedier than Amazon! The magnets are exactly as advertised and packaged just right."
You can find photos of his innovative creation below:
Anest constructs the PVC pipe rod and lure holders and gives them to his fisherman friends, two of them being Hammo and Kazu, local chefs who run a French restaurant called North 40-40 in Misawa.
Use Apex Magnets Today
Looking to make something similar to Anest's lure holder with our SPECIFIC PRODUCT? Check out the product details here!
If you make something creative with our other Apex magnets, we want to hear from you. Send us an email at service@apexmagnets.com or message us on Facebook for a chance to be featured.