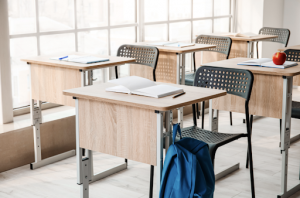 All teachers can agree that the past couple of school years have been challenging as a result of the pandemic. To make things a little bit easier, we're sharing some magnetic solutions to implement in classrooms. From organizing and refreshing classrooms to simplifying hybrid teaching, neodymium magnets have a wide range of uses.
Magnetic Solutions For In-Person Classes
Bendable Silicone Magnetic Clips 
Bendable silicone magnets have a variety of uses in classrooms. For instance, they can be used to upgrade paperclips, organize filing cabinets, hang dry-erase markers on a whiteboard, detangle cords, and replace bookmarks. All you have to do is open the clip, place papers or the object in between, and secure it by closing the magnetic clips. Additionally, you can write and erase labels directly on the clip with chalkboard markers. 
Magnetic Labels and Signage 
It can be a challenge to keep educational posters and signs secure on the wall all year round. One solution is to use adhesive magnets, such as  ½'' x ½'' x 1/16'' adhesive block magnets, holding up to 3.5 pounds. Simply adhere an adhesive magnet to the back of a poster, sign, or piece of decor and attach it to a magnetic surface. 
Magnetic Supply Organizer 
To keep pesky items in one place, such as paper clips, staples, and push pins, you can use a 1'' x ⅛'' neodymium disc magnet and glue it onto a small plate. This simple solution keeps loose items all in one place and not cluttered in your desk. 
Magnetic Solutions For Hybrid and Virtual Classes 
Magnetic Calendar 
If teachers work remotely, DIY magnetic calendars are useful to stay organized. Not only are they highly visible, but they also allow teachers to be flexible as these calendars can be rearranged as needed. All you need are 18 mm x 2 mm disc magnets, magnet pins, a Sharpie or pen, sticky notes, and washi tape. Magnetic calendars are also ideal to make or hang countdown calendars. 
Storage Shelf
To keep all your miscellaneous office supplies organized and in one space, you can use ½'' x ⅛'' countersunk ring magnets to create a mason jar storage shelf. It's a great way to organize office supplies and store single-use wipes, travel-sized hand sanitizers, and extra masks. 
Letter and Number Magnets 
If you're teaching classes virtually to elementary school children, you can attach adhesive magnets or hot glue small disc magnets to the back of wooden letters and numbers to teach ABCs and 123s. By doing so, you can teach lessons to students by putting the letters and numbers on a cookie sheet. 
Contact Apex Magnets!
At Apex Magnets, we sell a variety of neodymium magnets for teachers that they can use for both in-person and virtual teaching. If you need magnets with specific dimensions, we also offer custom magnets.Fill out our custom magnet request form, and we'll review your RFQ within 1-2 business days for FREE. Remember, there's no obligation to purchase. As always, if you have any questions about our magnets or custom magnets, don't hesitate to contact us at 1.304.257.1193.