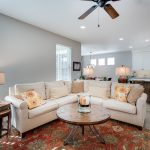 Magnets are used in a variety of different ways. From holding notes on your refrigerator to powering industrial equipment, magnets have a diverse range of applications. You may be surprised at how often you use magnets without realizing it. Other than the cute magnets holding photos on your fridge, can you find all of the other ways magnets are used in your home? Check out our infographic to get started:
The Bedroom
1. Duvet Covers - Magnets are used in some duvet covers to hold them closed. 
2. Hanging Art - Hook magnets can be used to hang wall art and posters. They can also be used to organize closets by hanging scarves, jewelry, belts, and more.
3. Handbags and Jewelry - Handbags often incorporate magnets into the clasps. Magnetic clasps are also used to make jewelry.
The Kitchen
4. Microwave Magnets -  Microwaves use magnetrons consisting of magnets to generate electromagnetic waves, which heat the food.
5. Refrigerator Doors - Refrigerators and freezers are sealed with a magnetic mechanism so they're easy to open from the inside.  
6. Spice Rack - A magnetic spice rack with neodymium magnets is easy to make and useful for clearing valuable counter space.
7. Knife Rack -  A magnetic knife rack is easy to make and great for organizing kitchen utensils.
The Office
8. Cabinets - Many cabinet doors are secured with magnetic latches so they don't pop open unintentionally.
9. Computers - Magnetism is a major component of computers. The hard drive's disk is coated with tiny magnets, which allow computers to store data.
10. Organizing Office Supplies - Neodymium magnets are useful for organization. Metal office supplies like paperclips and thumbtacks will stick to the magnet so they won't get misplaced.
The Dining Room
11. Extendable Tables - Extendable tables with additional pieces can use magnets to hold the table in place.  
12. Tablecloths - When having an outdoor party, use magnets to hold the tablecloth in place. The magnets will keep it from blowing away in the wind along with everything sitting on the table. Magnets also won't damage the table with holes or tape residue.
Can you find all the magnets used in your home? Let us know if you find any places that we didn't include in our list.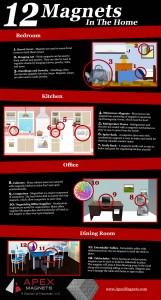 12 Magnets In The Home by Apex Magnets is licensed under a Creative Commons Attribution-NonCommercial-ShareAlike 4.0 International License.
Based on a work at https://www.apexmagnets.com/news-how-tos/12-places-to-find-magnets/.