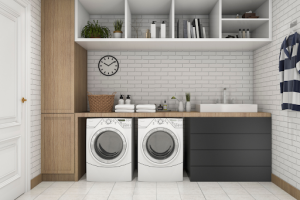 If there's one thing we know, it's that magnets can be used for all kinds of hacks around the home — especially when we're looking for temporary fixes or ways to make the most of small or awkward spaces. This week, we're sharing four magnet hacks for your laundry room.
Laundry Room Hack #1: Create a makeshift ironing board
If you live in an apartment or small house, chances are you don't have an ironing board on hand. One solution for this is to use an ironing mat, which is a flexible, easy-to-store surface. Some ironing mats are magnetic, so you can use them on top of your washer or dryer without worrying about them shifting.If you don't have a magnetic ironing mat, you can make your own by simply placing an ironing mat on top of your washer or dryer and use block magnets, such as our 10mm x 5mm x 2mm block magnets, to secure it to the machine. 
Laundry Room Hack #2: Hang unpaired socks
We've all experienced the dreaded lost sock situation. Somehow, a pair of your favorite socks gets into different loads of laundry, and you're left with a random solo sock whose partner might've been eaten by the washer, for all we know. To help sort socks and save them until their match is rediscovered, you can use duck bill magnetic clips. Simply place the magnets on one of the machines or another magnetic surface in your laundry room. 
Laundry Room Hack #3: Label storage baskets
Storage is everything when it comes to a laundry room, but it can be easy to misplace items if you don't have everything labeled. Instead of using clear storage containers or writing directly on your baskets, you can use magnets as a temporary solution for labeling your laundry room storage! Simply take two 1/4" x 1/8" disc magnets and pinch a piece of paper with the items written on it to the basket — it's that easy! We recommend using thicker paper and laminating it so that you can use the label for years to come.
Laundry Room Hack #4: Create a customizable storage solution 
The fun thing about magnets is that they are a temporary solution, meaning that you can rearrange them to fit your needs. In your laundry room, you can use different types of magnets to create a customizable storage solution. Simply place magnets on the side of your washer or dryer, or hang some kind of magnetic surface on the wall to create your "storage board." Some of our go-to recommendations are hook magnets to hold things like mesh laundry bags, square magnetic clips to hold laundry symbol guides or other washing tips, and even small disc magnets, such as our 5mm x 2mm disc magnets, to attach to products you want to easily grab — think small bottles of wrinkle releaser spray and portable stain remover sticks! 
Find More Magnets Hacks at Apex Magnets 
At Apex Magnets, we're always looking for ways to use magnets to make our lives a little easier, from simple bathroom magnet hacks to tips and tricks to make the most of your small kitchen with magnets. Visit the fix it with magnets or magnets for crafts sections of our blog for more ideas, or let us know on our Facebook page if you've discovered a magnet hack of your own!