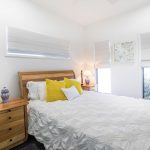 As we've shared over the years, magnets are handy resources to have around the house when you're looking for a quick fix or a temporary solution to some everyday household problems. As you send your child off to college, you can also find useful ways to incorporate magnets in their dorm room for both functionality and personality. Below, we've rounded up some of our favorite DIY projects. Read more about each and follow the link above each description for the full instructions!
Magnetic Crafts for Functionality 
Although this DIY project was originally intended as an indoor herb garden, it can be easily repurposed as a way to hold pencils, pens, and other regularly used items. In order to make these magnetic tea tins, all you have to do is find some empty tea tins (either around the house or at a thrift shop), thoroughly clean them out, and glue on a few 10mm x 2mm disc magnets! Then, just stick them to any magnetic surface. Each magnet has a pull force of 3 pounds, so they will be able to support many supplies, keeping the dorm room clutter-free and organized. 
Fridges found in dorms are usually tiny, which doesn't make it easy to store groceries for multiple people. To make the most of the space, you can create magnetic fridge containers that utilize the open area above items sitting on the fridge shelves. In order to make this possible, you may need to glue a magnetic strip inside the fridge to hold the containers using our 1" x 1/16" disc magnets!
College students have more than just class assignments to keep track of, as many of them join clubs, play on sports teams, or even pick up part-time jobs! This is why having a flexible, easy-to-change calendar is crucial to sticking to a schedule. If your child doesn't have a fridge with a magnetic surface, you can create this calendar on a magnetic board for their wall! This project will use Apex's 1/2" x 1/8" magnets and flathead pin magnets.
Magnetic Crafts for Personality
A magnetic vertical garden is a simple way to brighten up your child's dorm room and bring a little of the outdoors in, without the mess. We understand how busy college students are, so we'd recommend using this garden for air plants and succulents, as they are low-maintenance and don't require a huge time commitment! Grab some 1" x 1/16" disc magnets and follow along with our step-by-step instructions to make this garden a reality for your child.
Homesickness is common among college students, but sending your child off with a few images to display in their dorm room will help make them feel a little closer to home. Doing this Polaroid-inspired craft with your child not only gives you the chance to walk down memory lane but also allows you to spend a little bit more quality time with them before they leave. Our adhesive-backed magnets make this project simple and virtually mess-free.  
Whether you're creating more storage options, utilizing as much space as possible, keeping track of monthly responsibilities, or adding a little bit of decor, these magnet DIY projects are sure to make your child's dorm room feel a little more organized and a lot more like home. For other magnetic crafts, head to our blog.