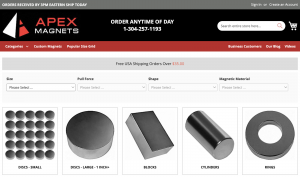 Since you're reading this blog, there's a chance you've clicked through Apex Magnets' website since we updated it. At first glance, it may look pretty straightforward, but we have so much more to offer! From a magnet term glossary to a searchable popular size grid feature, there are many tools, tips, and resources for you to explore. 
We've covered what's included on each product description page before, and now we're diving into what additional information you can find on the Apex Magnets website below. 
We know better than anyone that there are many terms to know when it comes to rare earth magnets, magnetism, electromagnetism, and other topics you'll stumble across on our blog and product pages. This is why we've put together an A to Z magnet glossary available for you to reference 24/7/365! 
Find the Apex Magnets glossary here.
While we pride ourselves on our customer service, we try to make it as easy as possible for you to find the answers to all your Apex Magnets questions. With a few clicks, you can find answers to frequently asked questions about Apex products, shipping, and general magnet knowledge! If you can't find the answers to your questions, give us a call at 304-257-1193 during business hours (Monday through Friday, 9 AM to 5 PM EST) or fill out the contact form on our website. 
Find the Apex Magnets FAQs here.
When it comes to powerful neodymium rare earth magnets, you can never be too careful! If you ever need a reminder on best practices around magnets, our magnet safety resource is a great reference. Aside from this page, we also have various blogs addressing magnet safety, including: 
Find information about neodymium magnet safety here. 
One of the most used features of our website is our popular size grid. Here, you're able to search all of our popular neodymium magnets in one handy chart. Search by magnet type, thickness, and pull force to find the best magnet for your next project! For more information on how to use the popular grid size feature, read this blog.
Explore the Apex Magnets popular grid size feature here.
Some magnetic concepts can be hard to describe on page, so we created videos to explain them visually. Our video gallery is split into two categories: Informational magnet videos and product videos. Whether you're looking for a how-to for separating strong magnets, a magnetic putty demonstration, or a short video showing how a product works, you'll find everything you need to know — and some bonus information! — through the Apex Magnets video gallery. 
Watch videos featuring Apex Magnets here. 
Once you've read through this blog, visit our website! You can also stay up-to-date on everything Apex Magnets offers by signing up for our monthly newsletter.