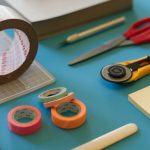 Over the years, we've compiled a lot of DIYs here at Apex. From magnetic coasters and spice racks to calendars and polaroid magnets—we have something for everyone to try. Even if you are an experienced crafter, it's still important to brush up on and follow a set of best practices when handling magnets. Safety and education are two of the most important factors when it comes to Apex DIYs, but hopefully, you have some fun in the process! 
DIY Best Practices
Making Sure Your Magnets are Secure
Most DIYs require some sort of gluing or adhering of magnets. It may seem simple, but making sure your magnets are properly glued or attached is integral to the crafting process. We recommend using a strong adhesive, like super glue, craft glue, or even a hot glue gun. For example, craft glue is ideal for smaller DIYs like fridge magnets whereas super glue is better for slightly bigger projects, like this at home desk DIY. If you're using a neodymium magnet, check out this blog about which adhesive works best with their nickel coating. Some crafts may even be best suited for an adhesive-backed magnet, which are easy and convenient to use! And remember, if you are using glue, make sure your magnet has fully dried before beginning the next step. 
Handling Strong Magnets
Certain magnets are more powerful than others. For instance, Neodymium magnets are the strongest magnets available commercially, which means we have to handle them differently. Wear eye protection and work gloves (if necessary) and pay attention when separating them as they can jump together. Neodymium magnets are flammable, so do not drill into them and always keep them away from open flames. Individuals with nickel allergies should also avoid this magnet as the coating contains this element. 
Take Your Time
When following a DIY, read the directions more than once before starting. There's no need to rush— especially when handling certain tools and materials. Speeding through a craft and accidentally missing a key safety measure could result in injury. 
Some DIYs are more complex than others, where some are simple and require minimal materials. Either way, it's best to follow along with the instructions and take your time when putting it all together. 
Be Careful Around Children 
Small children should not be left alone with magnets, as they can be a choking hazard if swallowed. There should be an adult present during the craft to ensure the safety of any children involved. It's also possible to be pinched by two magnets which may cause a blood blister, so monitor children closely. Magnets can be fun, and our DIYs are meant to be educational, enjoyable, and useful. Just be aware of your surroundings and put safety first. You may also want to read our full blog on magnet safety and first aid techniques before you start. 
Apex's Best Practices 
We want your DIY projects to be safe and fun for everyone! We encourage you to follow these best practices before jumping into our full blog of DIYs. Happy crafting!