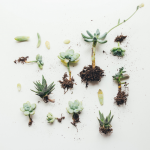 We're giving you another awesome DIY using plants and neodymium magnets! Previously, we showed you how to make magnetic succulents using wine corks. This time, we're going a step further and making our own paper mache magnetic plant holders using an ice tray!
What you need:
Ice tray

8oz glass of water

Newspaper

Scissors

Elmer's glue

Potting soil

1-2 succulent plants

Glue gun
Steps:
Cut newspaper up into small rectangular strips (about an inch larger than the ice cube tray slots on all sides).

Add Elmer's glue to 8oz of water in a cup and stir until the water turns a milky white.

Dip the strips of newspaper into the water/glue mixture and then add them to the tray. Layer the strips on top of each other in a criss-cross pattern by using 4 strips per slot. The key here is to make sure you don't see the ice cube tray under the paper. Press the paper down so no paper is sticking out of the slots.

Let the paper dry completely. This can take as little as 30 minutes.

Take the slots out of the ice tray and decorate the paper any way you'd like with paints, markers, or pens.

Use the glue gun to add one

disc magnet

to one side of the paper. You should only need one magnet per planter, but the weight can change depending on which succulent you use, so don't be afraid to add on another magnet later if need be.

Add some soil and take a small bud off one of the succulent plants.
Now you're ready to hang these little cuties on your fridge or any other magnetic surface! If you're more of a visual learner, head here for a video tutorial.  Every so often (every one to two weeks), give your plants a little sprinkle of water.
More Magnet Crafts With Apex
For you green-thumbs out there, check out another DIY – magnetic plant markers! You'll be able to grow your garden indoors as well as outdoors. Show us how you're using magnets in your garden on our Facebook page! You can find 20mm x 3mm disc magnets on our site – if you order by 3 p.m. EST, your magnets will be shipped the same day. For other magnetic gardening hacks, check out our magnets for crafts blog.