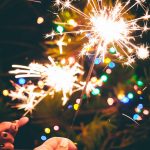 The New Year is quickly approaching! With 2021 on the horizon, it's important to be ready to start it off right. Rest assured, Apex has you covered with some helpful DIYs for celebrating the big day and to keep you on track for the new year. 
Chinese New Year Lanterns
The Chinese New Year, beginning on February 16, marks the first day of the Chinese calendar—also referred to as the Spring Festival or the Lunar New Year. To celebrate, we have a fun DIY for the whole family! These lantern magnets help honor the celebration of the Chinese New Year while being a simple, fun, and educational activity the whole family can be a part of. This craft requires 3mm x 1mm Disc magnets, some red and yellow cardstock, scissors, staples, and glue! For the complete tutorial check out this blog!
Motivational Magnets
Listen, we know how hard it can be to stick to your resolutions every year. If you're determined to meet your 2021 resolutions, try out this DIY to help you stay motivated and committed as the best way to stay on track is by reminding yourself each day to keep going! Create DIY motivation magnets and place them all around your home to remind yourself to keep going. Learn how to make them using neodymium magnets with the full blog.
DIYs for New Years Eve 
You may not be able to have a big party this year, but that doesn't mean you can't celebrate! From magnetic tinsel and confetti boxes to a New Year's Eve photo booth—we've got something that everyone will love, even from the comfort of your own home. Get ready for NYE by checking out this blog!
Magnetic Resolutions
Like we said above, magnetic crafts can be a big help in maintaining your New Year's resolutions. Whether your goal is to exercise more, get organized, or maybe simplify your home,  we have tips that will help you achieve your goals easily. Take a look at the complete blog which has common resolution ideas paired with useful (magnetic) solutions to ensure you'll get them done!
Head into 2021 With Apex Magnets
Apex is wishing you the very best New Year! Hopefully, you try out some of these tips to start it off right. For more information about all things magnetic in 2021, stay up to date with our blog and like our page on Facebook!