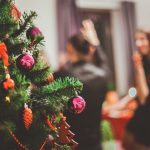 Now that you have the decor down, you're halfway to reaching pro host status for the holidays. To keep your guests happy and entertained all night long, check out these magnet crafts and hacks! 
DIY Magnetic Spill-Proof Drink Tray
Say goodbye to spilled drinks with a magnetic spill-proof drink tray! You'll just need a metal (or magnetic) tray of your choosing, 1-x-1-16 neodymium disc magnets, drinking glasses or cups of your choice, and Superglue. Then, follow these steps: 
First, pick up one of the glasses and turn it upside down on a flat surface, preferably on top of newspaper or cardboard so that you don't get the glue on your table or floor.

Take a magnet and apply a small amount of super glue to one side. Place the magnet (glue side down) onto the bottom of the cup, making sure it is as level as possible. Repeat this step on each of your cups.

Dry overnight. Then, simply stick the magnetic glasses onto your tray and enjoy your spill-proof drink tray!
Magnetic cups
Save the planet by skipping on the disposable cups! Simply take any cup that you would like and attach a couple of 1-x-1-16 neodymium disc magnets using glue to the outside of the cup. This way you'll be able to stick the cup right on the fridge and never have to look for one again.   
Magnetic Key Holder 
You won't have to search all over the house for someone's keys again with this magnetic key holder! The best part is that you'll use it year-round! Below you'll find the general directions, but you can read a detailed tutorial here. 
Grab 2 pieces of pine board (cut to the size you want your key holder to be), wood stain (in the color of your choice), wood glue, a nail gun and nails,

1/4" x 1/4" Cylinder - neodymium magnet

, a drill and 1/4" drill bit, adhesive, and a hammer. 

Apply stain to both pieces of wood and let dry. Once dry, use wood glue to attach the base piece to the back piece. Then, use a nail gun for reinforcement.

Drill four holes in the bottom of the shelf, making sure you don't drill through all the way.

Place adhesive on the back of the magnets and gently hammer the magnets into the holes, making sure the magnet is flush with the bottom of the wood. We

suggest using a rubber mallet to tape the magnets into the holes. 
Magnetic Hat/Coat Hook
You'll surely impress your guests with this DIY hat and coat rack -- we won't tell them how easy it was! All you'll need is a sheet of metal, hook magnets, and adhesive-backed block magnets (you'll want to add at least four magnets per sheet of metal). Once you stick the metal sheet to the wall with the adhesive-backed magnets, you just have to attach hook magnets to it. We told you it was simple! 
Party favors/games
Give your guests something to remember their time at your home for the holidays with some cool party favors. You can read the entire tutorial here, but it's pretty easy to make -- all you need is paper, some jar lids, and glue! 
Simply outline the jar lids on paper & cut it out to fit inside the lid.

Then, wash and dry the lids and glue a magnet on the back of each lid. 

Finally, glue the paper into the lid and voila! A super easy but cute party favor.  
Now that you have decor and entertainment down, all that's left to do is celebrate! For more magnet hacks and crafts, head to our magnets for crafts section of the blog.