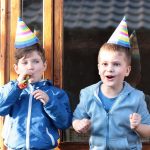 When hosting a kid's birthday party at your home, it can be hard to come up with fun activities to keep everyone occupied. If you find yourself in this scenario, we have two quick and easy magnet crafts for you. The best part? They can double as a party favor that fellow parents won't want to throw away! 
The idea is to reuse those pickle and pasta sauce jar lids you've been saving for "the right occasion" and add a disc neodymium magnet to the back of each one. Then, you'll glue some paper to the inside of the lid with the kid's creations on it to create a DIY party favor. 
First, you'll want to assemble the magnetic jar lids yourself, as children should not handle the magnets and glue. 
What you'll need: 
Jar Lids

Blank White Paper

Glue
Steps:
Outline the jar lids on paper and measure the inside to know what size you'll have to cut the paper.

Thoroughly wash and dry your jar lids. 

Turn the lid over and glue a disc magnet to the top of the lid. The magnet works best here so that the flat side of the lid sticks to a magnetic surface!

Let the glue dry overnight.
Now that you have the lids prepared, you can have the kids decorate the paper circles. Our recommendation? Take the kids through the magnetic paint activity we've talked about here. Make sure to use a few shoeboxes to keep things as mess-free as possible! Once they're done, let the paintings dry, glue them inside the lids, and write each kid's name on the back so they can take them home!
Parents will appreciate this cute craft over loud or messy party favors! For other quick and crafty DIY projects, visit our Magnets for Crafts blog page.