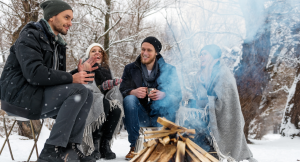 For all the extroverts out there, this is the time of year when you can put your host hats on, meaning there are plenty of opportunities to bring together family and friends for a holiday celebration or two at your home. While you've probably thought of almost everything, we have one more item to add to your list of party favors: magnetic koozies. 
Whether your guests are gathered inside around holly decked halls or outside by the oh-so-delightful fire, they could use a festive, customized koozie. Put in a little bit of extra time and effort to give them a fun, unique favor that will hold their drink safely against any non-moving, metal surface. This includes the fridge, the bed of your grandad's truck that's parked out back, the pole of the basketball hoop, backs of certain chairs, and more.
5 Steps to Make Magnetic Koozies
Order a pack of

strong neodymium sewing magnets

. Note that most sewing magnets come in a pack with equal number of "+" and "-" magnets. 

Our

1 x ⅛ sewing magnets

come housed in a thin steel cup within a square plastic pouch. This helps distribute tearing and pulling forces over a wider surface, preventing the magnets from tearing through fabric.

Purchase a fabric that matches the koozies in question. 

Simply sew or embed one or two magnets into a closure; be sure to match flat side to flat side for best results.

When sewing, only stitch within the textured edges of the plastic pouch to avoid breaking the seal, which protects from moisture and prevents rusting.

Adhere your koozies and the drink inside it to a metal surface.
Show Us Your Magnetic Crafts! 
We love sharing ways magnets can help improve our daily lives. Have you found a way to use magnets around the house? Show us your magnetic DIYs by sending us an email or sharing on our Facebook page. For more DIYs, check out the magnets for crafts or fix it with magnets sections of the blog.