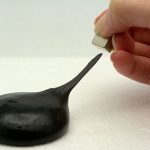 You know we sell strong permanent neodymium magnets, but that's not all! Along with magnets, we also sell magnet accessories to use at work, at home, or just for fun. Read more about the uses for these attractive products below. 
On the Job
Quickly and easily clear floors of ferrous metal debris with this magnetic sweeper. With 7" hard plastic wheels, an extra-wide 30" sweep, and handle that extends from 30" to 44.5", this sweeper quickly clears debris using the one-pull release on the sweep-head. You'll be able to pick up hardware, metal shavings, and other metal parts that could cause injury over shop floors, carpet, and even grass.
Our cotton inspection gloves work well for coin collectors, photographers, jewelers, and anyone who needs an inexpensive glove for clean work. They're thicker than gauze-type gloves but are not as thick as cotton dress gloves, so you can be sure they'll keep your magnets free of dirt, scuffs, and oil. In fact, these are the same gloves we use when working with our own neodymium magnets! They're available in a 12-pack and only in men's size large.
Magnetic Gadgets
If you need to distinguish between poles on magnets you have lying around, just move the probe of the magnetic pole searcher/finder close to a magnetic source. The small bar magnet will point to the nearest pole, with the blue tip of the probe pointing to the North pole of the magnet and the red tip pointing to the South pole.
Electronic Magnet Pole Identifier
If you want to quickly find the magnetic poles, or if you want to identify multiple pole magnets, our electronic magnet pole identifier is a great choice, as its accuracy is guaranteed 100%. Simply push and hold the black oval button while placing the tip of the identifier to the surface of the magnet. If it's the North pole, the red LED light will shine; if it's the South pole, the green LED light will shine. The identifier will work on Neodymium, SmCo, Ceramic, AlNiCo, ferrite and most other magnets, but it does not work on refrigerator magnets.
HT Digital Gaussmeter with Peak Hold
One-Touch Peak Hold means the highest gauss reading is retained and displayed until a higher reading is encountered. Many low-cost meters only display Tesla, forcing you to remember the conversion between units, but the easy, one-touch button on our digital gaussmeter will toggle readings between Tesla and Gauss scales. This gaussmeter will measure both direct current (DC) for permanent magnets—such as ceramic and rare earth—and alternate current (AC) for electro-magnets and fields, as well as displaying the polarity of the magnetic on-screen with N or S.

Just for Fun
Made from plasticine (similar to Silly Putty) and micron-sized iron-based particles distributed throughout, this magnetic putty is great for science-loving kids or adults. The putty will exhibit paramagnetism, which means it will take on the properties of a magnet itself when placed in close contact with a magnetic field. Just press the magnet into the putty and the whole piece becomes magnetic, able to lift tacks and paperclips on its own after charging in a magnetic field! Within seconds of putting the putty near a magnet, it will stretch itself out to reach the magnet almost as if it were alive. This order of 50g of magnetic putty includes one super strong 10mm Neodymium magnet and storage tin.

Attach your keys to any ferrous metal surface—refrigerators, lockers, metal cabinets, and more—with this keychain magnet. You can use it for hanging keys (it's real-world tested to hold up to 2.65 pounds) or for testing metal, which makes it perfect for jewelers, coin dealers, or anyone who needs to test for iron, nickel, or cobalt content. 
When you order Lodestone magnetic rocks, you can expect to receive a magnetite mineral rock specimen comprising of multiple pieces—measuring very roughly 1 to 2 inches in length—guaranteed to equal at least 1 pound or 454 grams. Originating in Mexico, this Lodestone is a natural magnetite, an iron ore that has magnetized by natural forces—most likely by the intense electrical field associated with a nearby lightning strikes. Use the Lodestone pieces to pick up iron filings, paper clips, and even small nails.
Ordering Magnet Accessories with Apex Magnets
See a couple of magnet accessories you want to pick up? Check out our new Rapid List Ordering option to seamlessly add multiple units and types of items to your cart. Don't forget, orders received by 3 pm EST will ship that day!