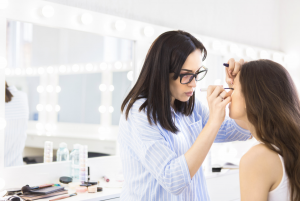 Are you a makeup artist or cosmetologist? If so, you've come to the right place. At Apex Magnets we've supplied thousands of industrial clients, including makeup artists and cosmetologists, to optimize and make their businesses more efficient. That's why we've rounded up some ways you can use neodymium magnets as a makeup artist or cosmetologist. 
Magnetic Wristband (Makeup Palette and Hair Styling Tools)
To start, using magnetic wristbands is incredibly useful for makeup artists and cosmetologists. With a magnetic wristband, a large block magnet or magnetic sheet, and a magnetic makeup pan, you can have a lightweight, hands-free makeup palette readily available on your arm. This allows you to work faster because you don't have to worry about holding a makeup palette or constantly turning around. You can also easily swap out different magnetic palettes and attach them to the wristband.  Furthermore, if you're a hairdresser, you can use a magnetic wristband to keep track of bobby pins and hair clips, and you can add a small compartment to store barber scissors or other tools to have everything you need on your arm. 
Magnetic Signage 
One of the easiest ways to make your business more efficient is with magnetic signage. In our previous blogs, we've talked about using magnetic signage in warehouses and retail stores to label processes, store merchandise,  discounts, etc. Similarly, you can implement magnetic signage in your makeup or cosmetology shop or storefront. You can hang signage inside or outside your building with a disc, bar, or adhesive neodymium magnet. By implementing magnetic signs, you can easily move the signage to another magnetic surface. But that's not it — magnetic signage is durable (whether it's indoors or outdoors) and it is cost-effective. To see our available neodymium magnets and custom magnets, click here. 
Magnetic Eyeliner and Eyelashes
One of the latest makeup trends is magnetic eyeliner and eyelashes. All you have to do is put a layer of magnetic eyeliner on and easily attach magnetic eyelashes. This is not only helpful for putting eyelashes on and accentuating their look, but you can also easily adjust the placement because of their ability to be easily snapped on and off.  Note: magnetic eyeliner and eyelashes are completely safe to use as the small pigments in the eyeliner will not cause any health risks if accidentally gets in your eye. 
Magnetic Mirrors
Did you know that you can set up mirrors around your workplace with magnets? With two neodymium discs or block magnets (depending on the mirror size and weight) you can glue one magnet on a mirror and the other magnet on the wall to easily place a mirror around your workspace. By hanging up a mirror with magnets, you can easily move and adjust the placement of your mirror depending on where your customer sits or the lighting. 
Magnetic Storage Shelf 
In one of our past blog posts, we talked about how to make a magnetic mason jar storage shelf. In both makeup and cosmetology, you can use a magnetic mason jar storage shelf to store all your tools and products, while also adding functionality and convenience to your everyday life. This is especially ideal for storing pesky bobby pins and clips, disposable makeup brushes, hairbrushes, combs, skincare products, product samples, essential oils, and more. For instructions on how to make this functional DIY shelf, click here. 
Magnetic Bobby Pin Plate
Do you consistently find loose bobby pins on the ground or around your workspace? If so, we've got the solution for you. With a small dish that isn't completely flat (to prevent bobby pins from falling off), multiple disc magnets, bobby pins, and a hot glue gun, you can create a simple magnetic bobby pin plate to keep all your bobby pins in one place. With this project, you no longer have to consistently buy bobby pins from losing them. For more details and instructions on this project, click here. 
Magnetic Makeup Board
Another useful way to stay organized as a makeup artist is by creating a magnetic makeup board. A magnetic makeup board could save you time on clients as you don't have to worry about misplacing items. All you need is one or more metal pans (can be in any size depending on how much makeup you would like to attach to the pan), multiple disc magnets, 3M double-sided command strips, hot glue, and fabric and double-sided tape (optional). For instructions and more information on creating a magnetic makeup board, click here. 
Contact Apex Magnets Today! 
At Apex Magnets, we sell a variety of magnets that can be implemented into your everyday life as a makeup artist or cosmetologist, including disc, bar, adhesive, countersink, cube, and more! We also offer custom magnets to best fit your needs — all you have to do is fill out our custom order form, and we'll give you a quote within 1-2 business days for FREE. 
If you have any questions about our magnets or custom magnets, don't hesitate to contact us at 1.304.257.1193. Our team of experts is ready to serve you — we've supplied thousands of business, industrial, and institutional clients within the U.S. and globally.