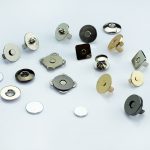 According to the CDC, in the United States, 61 million adults live with a disability and 3.6 percent of people have a self-care disability with difficulty dressing or bathing. Many companies are selling adaptive clothing that help people with disabilities get dressed more easily. In adaptive clothing, magnets replace buttons, zippers, and laces.
From adaptive clothing, shoes, and accessories, magnets have transformed the way people with disabilities dress and express themselves— without limitation. To see how adaptive clothing has empowered people with disabilities, click here.
Adaptive Clothing
Neodymium sewing magnets or magnetic clasps are commonly used in adaptive clothing. For instance, buttons on shirts, jeans, collars, and cuffs can be replaced with sewing magnets to make dressing a faster and easier process. The zipper on jeans can also be replaced with sewing magnets for fastening your pants.
According to Vogue Business, adaptive clothing is expected to be valued at nearly $400 billion by 2026 because many fashion companies are starting to make more inclusive clothing. For instance, Tommy Hilfiger has a product line of adaptive clothing. The company explains that through adaptive clothing they "can make a difference in your own everyday routine, without ever sacrificing style or quality." Tommy Hilfger sells button-down collared shirts with magnets clasping the shirt shut.
As you can see, many companies are providing more inclusive clothing for people with disabilities and this industry is only expected to grow.
Adaptive Shoes
Putting on shoes can be a difficult task for people with disabilities. Many companies are replacing the shoelaces with magnets to make adaptive shoes. For instance, Zappos has a product line called "Zappos Adaptive'' that consists of adaptive clothing, easy-on/off shoes, disabetic shoes, and much more. The company sells popular shoes, such as Nike and Converse, that are made easier to be taken on and off.
Another company that is transforming the footwear industry for people with disabilities is Zubits. Zubits provides a magnetic lacing solution made out of Neodymium disc magnets. They make putting shoes and taking them off easy — you clasp together the magnetic device to put them on and to take them off, you step your heel back and the shoe snaps open hands-free.
Adaptive Accessories
Similar to adaptive shoes and clothing, adaptive accessories have transformed the way people with disabilities dress and express themselves. Adaptive accessories can consist of neodymium disc magnets, magnetic clasps, and magnetic clips to make taking on and off easier. For instance, neodymium disc magnets can replace zippers to make opening and closing purses easier for people with disabilities. To learn how to install a magnetic clasp on your wallet or purse, click here.
In addition, magnetic jewelry has provided an easier way to put on/take off jewelry. With magnetic clasps, jewelry is held in place securely but can also be easily removed by pulling apart the magnetic closures. This is extremely convenient for individuals with arthritis or limited dexterity. To learn more about magnetic jewelry and how to make it, click here.
Apex Magnets
At Apex Magnets we sell a wide variety of magnets that can be used in adaptive clothing, shoes, and accessories. From sewing magnets, neodymium disc magnets, magnetic clips, and magnetic jewelry clasps, we've got it all! Visit our website to see our available magnets today!
If you have any questions about which magnets are best for your application, don't hesitate to reach out. Our team of experts is readily available to answer your questions at 1.304.257.1193 or send us a message.