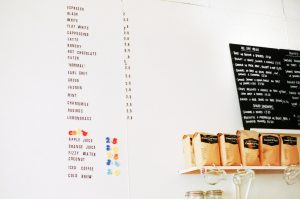 Make Your Own DIY Menu Board
If you are looking for a simple and effective way to save time and get organized before the school year starts, we have just the solution! With a few simple supplies you can pick up from your local dollar store, you can create a custom menu board that your family will love. It may even help reduce your grocery spending! Forget the endless arguments about what you are having for dinner when you get the kids involved with meal planning at the beginning of each week! 
Supplies:   
Cookie sheet (you can even use round or square sheets) 

Spray or craft paint

Lightweight cups or small craft containers

Copy paper or colored construction paper 

Popsicle sticks

Hot glue 

Dry erase markers

Sharpie pen 

Picture frame

Stickers or stencils to personalize your menu
What to do: 
Paint your cookie sheet with the spray or craft paint of your choice

Attach one

large disc magnet

at each corner of the cookie sheet to hang it on any magnetic surface such as a refrigerator 

Make a menu by writing each day of the week on your paper

Glue your picture frame on the cookie sheet with your days of the week menu pictured inside

Paint two cups or small craft containers and glue a small disc magnet to the back of each container

Write meal options on your popsicle sticks and separate them into two categories: one for dining in and one for eating out 

Place the popsicle sticks inside of each respective container 

Glue a small disc magnet to the back of your dry erase marker(s) 

Personalize your board with stickers or stencils 

And finally - get cooking! 
Not only does this crafty menu board save your sanity, but it also makes a great DIY gift idea for friends and family! With endless options to customize your creation, go bold with bright pink paint for your sister, or add jewels to satisfy mom's eye for sparkle! And do not forget about dad! Pick up a smaller cookie sheet that he can attach in the garage or on the deck for the perfect summer BBQ lineup! 
Get Crafty with Easy DIY Ideas For The Whole Family At Our Blog
Feeling inspired? Visit our blog for a variety of simple projects for the novice to the expert DIY enthusiast! You will find everything from weekly crafts, science experiments, magnetic news, and other fun and educational topics that will keep you coming back for more! And once you are done with your crafty creation, show it off on our Facebook page! And remember to contact us anytime with questions, ideas, or if you are just not quite sure where to start. We are always here to help!