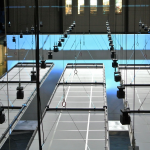 Greek sculptor Takis -- born Panayuitis Vassilakis -- is a nonagenarian (a person who is between 90 to 99 years old!) and is the subject of an art exhibition opening on July 3 at Tate Modern in London. Why are we sharing this? 
His work is about magnetism! 
About Takis Works
Takis was an avant-garde artist of the '50s and '60s who was known for exploring magnetic field energy. Around 1958, Takis tried to materialize electricity through magnetic attraction to "capture the invisible." His experiments flourished with his poised "Magnetic Wall" monochrome paintings — paintings that use strong magnets behind monochrome canvases to hold metal objects in graceful suspension, such as "Mur magnétique blanc n°8" (1961) and "Mur magnétique n°9 (Rouge)" (1961). Takis constantly used magnets and suspension to give his art the impression of defying gravity. 
Most of his works used radar and radio antennas, electric lights, bent nails, and scraps of metal--all things that were seemingly ordinary materials. The repurposed materials and electronics were often taken from parts of war machines and fragments associated with destruction in order to make sculptures that were playful, mysterious, and emotionally charged. You can read all about Takis magnetic personality and works here. 
Tate's Exhibition
The exhibition in Tate Modern will include representative works by the sculptor from his exploration into magnetism as well as light and sound. After being in London, it will then travel to the Museum of Modern Art in Barcelona and later to the Museum of Cycladic Art in the Greek Captial. "Takis was one of the most audacious and original artistic voices in Europe in the 1960s," comments Micael Wellen, curator for Tate. The exhibition hopes to show people Takis as someone who broke the conventions of art by looking at particular themes of magnetism, light and darkness, sound and silence. 
Historical works that haven't been seen by the public for decades, such as his "Magnetic Fields" (1970), as well as key sonic works, such as "Musicales," will be showcased in this exhibition—it is not one to be missed. 
We love seeing the worlds of science and art colliding through Takis' works. For more magnetic stories, check out our magnets in the news section of our blog or subscribe to our newsletter.