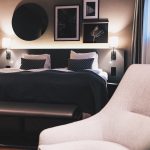 The average person spends roughly 26 years of their life sleeping. That means that after subtracting the time you spend relaxing, reading, and plain old hanging out, you're already spending a lot of time in your bedroom! This private room of your home acts as a safe haven –– a sort of sanctuary after a long day. Since you spend so much time there, retreating from stress and sleeping soundly, you might as well decorate the way you'd like, and take advantage of organizational hacks. Check out the following ways to beautify and organize your bedroom using magnets:
Decoration and Organization: Hanging Items on the Walls
Why leave your walls bare? Hanging up something simple –– art, tapestries, pictures –– can really spruce up a room. Before grabbing the hammer and nails and putting holes in your walls, try using magnets. They allow for some flexibility when it comes to decorating. If you get bored of one hanging item, you can more easily switch it out for another.
First, think about where you'd like to hang your item. Then, stick adhesive magnets to the wall's surface. You can either hang something in a ferrous frame or casing, or you can use a secondary disc magnet (with at least 5 pounds of pull force) to hang up a poster or a tapestry –– anything you'd like! For more ideas, check out our blog, 12 Places to Find Magnets at Home.
Magnets are an excellent resource when it comes to organizing your bedroom, too. For example, you could use magnetic hooks to hang clothing, jewelry, scarves, belts, tote bags, etc. Something like magnetic paint will create a more permanent solution, but it allows for flexibility to switch out the items you hang. While you can't use magnetic paint to hang anything particularly heavy, you could use it like an office whiteboard to leave yourself notes and reminders, or to hang more photos. Craving more organizational tips? Check out our blog about magnetic storage.
Keeping Things Closed and Connected: Curtains and Duvets
You can also use magnets as a way to keep your curtains closed or your duvet cover snug in place. Have you ever had some time off and all you wanted to do was sleep in a couple extra hours, but you couldn't because the sun crept in between the crack in your curtains? Magnets are a simple solution. With three pairs of magnets –– for example, our neodymium discs –– you can clasp the edges of your curtains together and keep the room nice and dark for as long as you'd like. You could also use something like our bendable silicone magnet clips.
People also use magnets to keep their duvet covers from shifting around and looking messy. By pinching together the fabric at all four corners of your bed spread, you can fix your duvet cover in its proper place. When you return home after a long day or work, your made bed will look neat and tidy –– perfect to dive into for the night. Plus, because we sell such small and powerful magnets, you don't have to worry about bulky magnets taking away from the overall look and feel of your room. 
In both cases above, you might consider ordering a colored, plastic-coated disc magnet that matches the material of your drapes or duvet cover. 
Creative Ways to Use Apex Magnets
Magnets have many creative uses throughout your entire home, not just your bedroom. The only barrier is the limits of your own creativity. If you have any of your own decorating or organizational tips using magnets, we'd love to hear about them! Leave a post on our Facebook page for a chance to be featured in an upcoming blog post. Be sure to keep up-to-date with our blog for the latest on magnets!