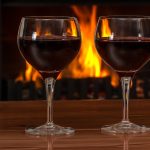 When it comes to Valentine's Day, there are usually two types of people━the ones that love it and the ones that loathe it. There's probably also a group of people out there that have simply stopped caring, but for this blog, we're focusing on the people that loathe February 14. Read on to find some perfect DIY creations for those that loathe Valentine's Day.
Broken Heart Magnets
If you are planning an anti-Valentine's Day party, a broken heart magnet is an easy and creative party favor. All you need is some polymer clay, an X-acto knife, a rolling pin, some glue and magnets. Roll out the clay, cut out broken heart shapes, bake them and glue some magnets to the back. You can also do your own twist on these DIY conversation heart magnets by putting anti-Valentine's messages on them instead.
Wine and Magnets
Don't want to waste time rummaging in a kitchen drawer for your wine opener? Attach a magnet to a cork opener and hang it on to your fridge, so when February 14 rolls around you can sip a glass of your favorite drink without worrying about finding the opener. You can also make some wine cork magnets and paint messages on them.
I Love X More Than People Magnets
If you love food, cats, dogs or anything else more than most other things, then profess your love with some DIY magnets.
Heart Piñata
One creative way to get all the Valentine's Day hate out is to swing at a candy-filled, heart shaped piñata. You can make your own heart-shaped piñata with this Instructable or purchase one at a party decor store. This is also a great activity for an anti-Valentine's Day party. Hang it up with a hook magnet and pass around a stick or bat to your guests.
If you hate Valentine's Day or just want to throw a bash with your fellow February 14th haters, these DIY magnet projects are a fun way to celebrate. How are you celebrating Valentine's Day? Feel free to share your holiday DIY projects with us in the comments.