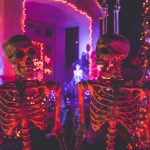 Maybe you volunteered to throw the annual Halloween party for your neighborhood, or perhaps you're on the main stretch for trick-or-treating and want to make sure your home is as festive (and spooky) as possible. To temporarily decorate for Halloween without the risk of damaging your property, check out these magnet decorating hacks below. Your house will be the talk of the town come October 31st! 
Decorating Inside Your Home
Dress up your drop ceilings
If you're looking to hang decorations from the ceiling, all you have to do is place hook magnets on the grid system of the ceiling. These are best for hanging single items and for stringing up larger decorations that cover a significant portion of the ceiling, such as fake cobwebs or string lights. If you have a vinyl or cloth backdrop for photos, you can also hang this from the beams closest to the wall! 
Keep your tablecloth intact 
This hack isn't as spooky, but it will come in handy if you have a bunch of kids over at your house -- that's spooky. To keep tablecloths from sliding around, use ½" x ½" x 1/16" adhesive-backed block magnets on the underside of the table. Be sure to place one magnet at each corner, as well as a few along the sides of the table. Then, stick a ⅜" x ⅜" x ⅛" block magnet on the opposite side of the tablecloth so that it's stuck between the two magnets.  
Decorating Outside Your Home 
Hang decorations from tree branches
This magnet hack is so simple that you'll wonder why you hadn't thought of it sooner! Sometimes hanging decorations from trees can result in lost or damaged items from blowing away with a big gust of wind, or it could result in damage to the tree if you nail decorations into the tree itself. Instead of nails, grab two ½" x ⅛" countersunk ring magnets with a pull force of 5.5 pounds each. Their high pull force means that it would take a lot of force to get these magnets apart, so your decorations should be safe from most fall weather! These magnets have a hole in the center, which makes it easy to tie a string through for hanging. All you have to do is tie string to both magnets and then stick the two magnets together around the branch.
Hang lights and cobwebs from rain gutters
If your gutters are made of magnetic material, such as galvanized steel, you can use hook magnets to hang string lights or cobwebs from them! This hack is possible even without magnetic gutters, however: simply "sandwich" the gutter between two magnets (one on the inside and one on the outside). Be sure to place the hook magnet on the outside, and use another magnet--such as a ½" x ⅛" disc magnet--to keep the hook magnet in place.
Spook up your mailbox
The possibilities are endless when it comes to decorating your mailbox! Since this is the first thing people see when they approach your home, this is your first chance to give a spooky first impression. Consider gluing a few ⅜" x ⅜" x ⅛" block magnets to the back of a wooden beware sign, or order ¼" x ⅛" disc magnets to secure some miniature plastic skeletons to your mailbox. 
Get Festive with Apex Magnets
Halloween isn't the only holiday where these magnet hacks come in handy! For other attractive decorating tips and tricks, visit the Fix it with Magnets and Magnets for Crafts sections of our blog.