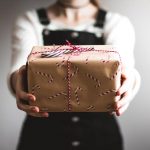 Quarantine has given us a lot of extra time indoors to get ahead on our to-do lists. With time seemingly passing by, the holidays will be here before we know it! Spend your extra time indoors to get started early on your holiday gifts by crafting up some homemade presents. 
Get into the holiday spirit early with these DIY gifts -- 
DIY Poinsettias With Magnets 
We all have those friends who love decorating as much as they do the actual holiday. These adorable poinsettias magnets are the perfect gift to give them even before the big day so they can make the most of the holiday season! 
Don't forget to make yourself some. All you need is artificial poinsettia flowers (use any color you like), hot glue gun, and multiple 3mm x 1mm Disc - Neodymium Rare Earth Magnets. See the full tutorial here.

Magnetic Money Clip
This is the ideal gift for that person in your life that is hard to buy for during the holidays! Our DIY magnetic money clip is practical and stylish. With leather straps and two block magnets, you can make a magnetic money clip in less than 10 minutes! 
DIY Raw Crystal Magnets
Crystals are a beautiful addition to any space, and make the perfect gift! This is another super quick DIY and all you need is an assortment of raw crystal and minerals from your local craft store, small Neodymium disc magnets, hot glue, or super glue. Find more information on how to make your gift here!
DIY Polaroid Picture Magnets 
This one is great for your best friend or partner! Show them you care with this memorable magnet that looks just like a polaroid. What you'll need: thick matte photo paper, adhesive-backed magnets, white foam board, multi-purpose spray adhesive, x-Acto knife, scissors. To find out how to construct your very own polaroid magnet, click here!
DIY Mini Book Magnets
The bookworm in your life will adore these mini book magnets. This seems like an intricate DIY but it's pretty easy with some patience! The time spent making it will mean so much to the book lover you're gifting it to! 
We've Got You Covered at Apex Magnets
These are only a few DIY crafts we've come up with! For even more magnet experiments and DIYs, check out our "magnets for crafts" section of the blog!