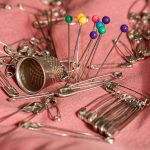 If you sew, you know how easy it is to drop and lose those pesky straight pins. They're small, slick, and hard to find once they're on the carpet. Not only are they annoying, but loose pins can also be a hazard when walking around without shoes! To keep track of these pins and keep your area clean and organized, we put together a DIY magnetic pin dish craft. It's so simple that you'll be asking yourself why it's taken you so long to put one of these together!
This project can go beyond the sewing room, too. You can create a magnetic dish to hold paper clips at your desk, safety pins in your laundry room, or even screws, nails, bolts, and other small pieces of hardware in your workshop! Follow along with the simple step-by-step project below: 
What You'll Need: 
A dish or bowl (Try to find something that has a lip on the bottom so that the magnets will sit flush and won't impede the way the dish sits on a flat surface. 

Adhesive

Straight pins
Steps: 
Choose a dish or bowl to create your magnetic pin dish. 

Glue a disc magnet to the bottom of the dish and let the adhesive dry.

Flip the dish/bowl over and fill it with pins.

Test the strength of the magnet by flipping the dish over. If the pins fall out, you may want to get a larger magnet for the bottom of the dish.
Keep Track of Things with Apex Magnets! 
Over the years, we've found many ways to incorporate magnets in our daily lives, especially when it comes to organizing our homes and offices. Not only have we covered how to use magnets to tidy up a bathroom and create more storage space in a tiny kitchen, but we've also found ways to keep track of the things that are easy to lose like car keys when you're heading out the door and screws, bolts, and nails when you're working on a home improvement project! If you're looking for the best magnets for your next project, visit our online catalog to find the right product for you. All orders over $25 ship for free, and if you order by 3 pm EST, your order will be shipped the same day!