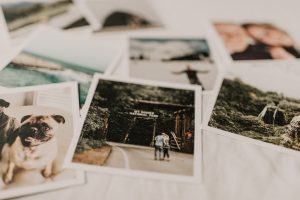 You may have noticed that over the past few years, fashion and home decor have trended towards increasingly minimalist designs. Minimalist style is defined by one key principle: simplicity, including streamlined shapes and limited colors. When trying to pinpoint this trendy style, simplicity is the way to go! The best part? Since this style is so classic you won't have to worry about keeping up with fleeting fashion trends—simple is always in style. And when you do want to switch things up, magnets can come in handy. 
Make Your Own Minimalist Photo Stand
Buying frames can be expensive and the glass can cause annoying reflections on your picture. You can avoid these problems with our latest DIY that's so easy, you'll be a minimalist in no time! 
What You'll Need:
A picture or postcard you want to display

Magnets:

For smaller photos: two small block magnets

For larger photos: a pair of cube magnets 
Steps:
To start off, pick a picture or postcard without a frame. 

Place the picture between two

1/2" x 1/8" x 1/8" block neodymium magnets

. With one block in the back and one in the front, they should be sandwiching the picture. The magnets should also be positioned at the bottom of the picture for stability, and by way of their magnetic attraction, balance the photo in place. If your photo is larger, we recommend using a pair of cube magnets for both corners at the bottom of the picture for better stability. Try our

8mm x 8mm x 8mm neodymium cube magnets

. 

Now you're done! Just stick the magnetic frame on the fridge or desk and sit back and enjoy without the hassle. You can also repeat these steps for multiple photos and easily switch out the pictures whenever you want!
If you want to add some color, you can paint over the magnets with solid colors or adding lines. 
Show Us Your Magnetic Crafts! 
We love sharing ways magnets can help improve our daily lives. Have you found a way to use magnets around the house? Show us your magnetic DIYs by sending us an email or sharing on our Facebook page. For more DIYs, check out the magnets for crafts or fix it with magnets sections of the blog.