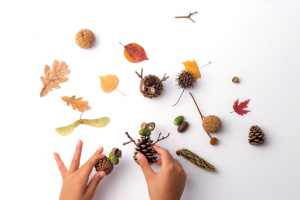 Are you looking for a fun craft to do with your children or an easy way to create cute tiny magnets for decorating your home? We've pulled together a list of our simple autumn magnet crafts that are sure to be a hit. Remember that if you are crafting with little ones, an adult should handle the magnet portion of the project to ensure no fingers are pinched in the process. You can learn more about magnet safety on our website.
Nature-Inspired Magnets
Clay Leaf Magnets
Falling leaves are an iconic part of this time of year, and there's no better way to display these gifts from nature than our easy-to-follow clay leaf magnet DIY project. For this project, you'll need 1/2" x 1/8" ceramic/ferrite disc magnets, leaf-shaped cookie cutters, some air-dry clay, and a few other materials you likely already have on hand. 
Find the full clay leaf magnet tutorial here.

Acorn Magnets
Acorns are aplenty in autumn, so why not use them to make some cute fridge magnets? Our tutorial recommends using some vivid neon paint to take these magnets to the next level, but you can also use more traditional fall colors to match your autumn decor. Grab some 5/16" x 1/8" disc magnets, paint, wood slices, and, of course, some acorns, and check out our fun and festival fall tutorial. 
Find the full acorn magnet tutorial here. 
Leaf Magnets 
Can you be-leaf we have even more leaf magnet crafts to share? There are three in this tutorial: preserve some leaves in resin, press and laminate leaves to create an autumn backdrop on a magnetic surface, or transform leaves into tiny ghosts that grace your fridge! The size disc magnet you'll need will depend on how heavy your final project is. We recommend nothing smaller than the 1/4" x 1/8" disc, which has a pull force of 3.1 pounds. For the laminated leaves and ghost leaves, you'll need a magnet with a smaller pull force than what you'll need for the resin leaves. 
Find the full leaf magnet tutorials here. 
Pumpkin Magnets
Mason Jar Pumpkin Magnets
If you happen to use Mason jars in your home, there are likely a few stray lids laying around without a match. Luckily, this Mason jar pumpkin magnet project is the perfect way to repurpose those lids. You'll need three lids for each pumpkin you want to make, as well as some orange paint, twine, a twig, your hot glue gun, and some 1/2" x 1/4" ceramic/ferrite disc magnets!
Find the full Mason jar pumpkin magnet tutorial here. 
Glass Pumpkin Magnets
'Tis the season for all the fall crafts. If you want to make a smaller pumpkin magnet than the Mason jar pumpkins, you should try our glass pumpkin magnet craft! These adorable magnets are easy to make and will leave a lasting impression on your guests as they celebrate the season of gratitude and giving in your home. This project uses 15mm x 3mm disc magnets. If you don't want to use glass gems, acrylic gems work just as well! 
Find the full glass pumpkin magnet tutorial here. 
Animal Magnets
Felt Owl Magnets 
This interchangeable felt owl magnet craft is a hoot! Bring the warm tones of the autumn colors into your home with this easy project using mini canvases, felt and buttons, watercolor paint, and disc magnets. 
Find the full felt owl magnet tutorial here.
Turkey Leaf Magnets
These adorable turkey leaf magnets can live on your fridge, in your office, or even in your kids' lockers this fall! They are not only festive and fun, but they're also functional! The clothespin helps hold notes, photos, or lists for your convenience. 
Find the full turkey leaf magnet tutorial here.
Create More With Apex Magnets
With only a few materials and a relaxing Sunday afternoon, you'll have many fall-inspired magnets to decorate your home or give away to friends and family over the holidays. Show us your magnetic DIYs by sending us an email or sharing on our Facebook page. For more DIYs, check out the magnets for crafts or fix it with magnets sections of the blog!