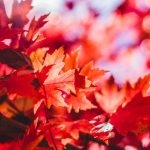 Over the years, we've built up our collection of fall crafts. Now we're presenting them in one easy to navigate list for you to choose your favorite and get to crafting! Whether you're an elementary school art teacher or a busy parent looking for an afternoon activity for your kids, these autumn-inspired DIYs will be a hit with everyone! Below you'll find a brief description of each craft—just click on the name to get the full tutorial.
With a little paint, some mini-canvases, colorful felt, buttons, and super glue, you can create your own autumn scene complete with felt owls. In this craft, you'll use 1/2" x 1/8" adhesive-backed disc magnets to stick the owls to the canvas and 3/8" x 1/8" ceramic disc to hang up the finished project on a fridge, chalkboard, or any other magnetic surface. 
Fall's the perfect season for spooky crafts and haunting home decor! Sometimes, though, all we want is a little autumn flair to get our homes ready for the holidays. These adorable pumpkin magnets are a quick way to add some festivity to your fall. Once you've put together the craft, just glue a 20 mm x 3 mm disc magnet on the back!
This craft will send your kids on a scavenger hunt for the best ghost-shaped leaves in the yard.  One the leaves are painted, you'll use 5mm x 3mm disc magnets to hang them up. 
You've likely seen acorns, but we doubt you've seen acorns like this! Neon pink, green, orange, and yellow might seem out of the ordinary for the season, but these colors represent the most vivid leaves during peak foliage. With this craft, you'll be able to bring fall's best colors into your home. Or, if you'd like, you can keep them natural. This craft uses 5/16" x 1/8" disc magnets!
We're taking our autumn crafts up a notch with an air-dry clay craft. By using a few leaf-shaped cookie cutters, acrylic paint, and 1/2" x 1/8" ceramic/ferrite disc magnets, your kids can make beautiful magnets to display.
These adorable turkey leaf magnets made with clothespins and 3mm x 1mm disc magnets are both festive and functional! After you have the kids put them together, you can use the clothespins to hang up their other artwork or assignments on the fridge or chalkboard. 
Get Crafty with Apex Magnets
If you make any of these fun fall magnets with your kids, share your experience with us on our Facebook page! For other festive crafts, visit the Magnets for Crafts section on our blog.