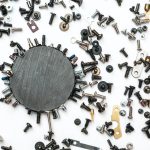 Although 2020 was a year of staying home, it gave us lots of time for magnetic experiments! Performing experiments with magnets can teach us a lot about how things around us work and give us a better understanding of our world. In case you missed any of the experiments we talked about this past year, we've compiled them all below for you!
For When You're Bored
Whether you're looking for something to create or looking for fun, these experiments will help cure boredom! Learn how to make a bottle opener using neodymium disc magnets or create a magnetic sensory jar to keep you entertained and relaxed. You can even spread the fun and teach those around you about magnetic force with the levitating paper clip or pen trick. Find out more about these experiments with this blog!
DIY Magnetometer
Magnetometers are important tools that measure the strength of magnetic fields. They're essential in assessing the strength of permanent magnets and electromagnets and help us understand the field shape of nontrivial magnet configurations. Create your very own portable Magnetometer inside a Tic Tac Box with our DIY! All you'll need is:
A large Tic Tac Box

Ballpen tube

SS49E linear Hall sensor (can be purchased online)

Arduino Uno with prototype board (can be purchased online

3 thin stranded wires

12cm of thin (1.5mm) shrink tube

A 9V-battery clip
Now that you've got the materials ready, check out the full blog to get started!
Experiments for Schooling at Home
Even through 2021, parents are choosing to teach their children from home, so we've made some tips and tricks to make it easier on you and more fun for your kids. Amaze your kids at craft time with our magnetic toy cars DIY. When it's time for science, showcase magnetism with a demonstration using a paperclip, a bar magnet, and a steel object like a screwdriver or sewing needle. For organizing your at-home classroom we have some useful tips as well. Head over to our full blog to learn about all of these and more!
Magnetic Science Lessons 
Whether you're teaching from home or just want to educate yourself and others for fun – Apex has some great DIYs! Choose from the magnetic paint activity, making a magnetic galaxy, or teaching about magnetic personalities throughout history. Even better, try them all! Read all about them here. 
Share Your Results with Apex 
If you try any of these experiments out, send us a photo on Facebook! For more information on all things magnetic, keep up to date with our blog.