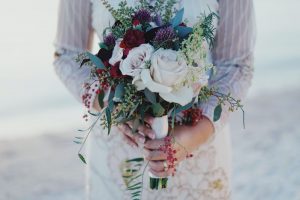 Magnets can be incredibly helpful to someone who is planning a wedding! They're discreet, so they don't take away from the ambiance of the day, and they're perfect for crafts and DIYS, which are a staple at any wedding celebration. That's why, before you walk down the aisle or wait at the end of it, you should read through the following magnets and wedding DIY roundup:
Magnetic Save the Dates
Save the dates and invites can be stressful to approve and expensive to create! Not to mention that most are thrown away once the event has passed. That's why we're sharing a special DIY that you can use and enjoy long after your wedding day — save the date magnets! You'll essentially just need ¼" x ⅛" disc magnets, glue, Mod Podge, printed pictures, foam board or pre-cut tiles, and pens, stamps, or stickers. You'll be creating a "Polaroid" style invite by gluing the image onto the foam board, adding the text at the bottom and gluing a magnet onto the back. Read the full tutorial here!
Bride and Groom Magnetic Clothespin & Magnetic Felt Flowers
Your bridal party deserves some low-key fun amidst all that responsibility. Try out these easy, inexpensive DIY wedding crafts for a dose of stress-free celebration.  To make a bride and groom magnetic clothespin, you'll need a wooden clothespin with a spring, black craft paint, white craft paints, paint to match the Bride and Groom's hair color, a small paintbrush, paper plate, aluminum foil, a hot glue gun (with glue sticks), white fabric (optional), ribbon or lace (optional), a thin black sharpie, a red-colored pencil, and 6mm x 1mm disc magnets. 
What about some magnetic felt flowers? After all, it's not a wedding without flowers! You'll need a hot glue gun (and glue sticks), 9" x 12" colored felt sheets, green felt, printed pattern for petals, scotch tape, scissors, and 4mm x 1mm disc magnets.
To see the step-by-step directions for both of these crafts, read this blog.
Succulent Magnetic Garden Wall
So, what about decorations for your big day? Whether you're planning everything on your own or you just want to add a personal touch to whatever your planner has… well, planned —  a succulent magnetic garden wall can make for lovely decor (or a gift for your guests!) You'll need some potting soil, succulents (or a plant of choice), metal sheet, a drill, and strong disc magnets. Check out the details here!
Magnets to Hold Tablecloths Down
Weddings are all about the details, and there is no detail too small. Weather is a pain point for many brides and grooms as well, but with this trick, you can take the wind off your list of concerns. Use two small cube magnets on top of your tablecloth and under the table to hold things in place. Bonus trick: think about keeping your table placements on a large metal sheet, this way, you could put tiny magnets on the backs of clothespins and adhere to the sheet to hold name cards so they won't blow away! 
Apex Magnets — We Now Pronounce You a Happy Customer!
We love being a part of your big day in some small way! If you have questions about these or any other magnetic applications, don't hesitate to send us an email. For more DIYs, check out the magnets for crafts or fix it with magnets sections of the blog.