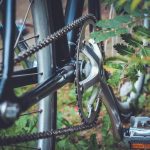 There seems to be an increased trend of companies incorporating magnets into bike and bike accessory designs --the latest trend includes magnetic platform pedals. The goals of these innovations are to not only improve rider safety but to also improve their performance. One issue that many mountain bikers face is chain drop, although it's not as common as it used to be since the invention of narrow-wide chainrings. MagSuck, a company based in Zhejiang, China, came up with an attractive solution for chain drop—magnetic bike chainrings. 
What is Chain Drop, and How Does it Happen?
Chain drop is exactly what it sounds like—when the chain of your bike drops off the chainring (sprocket). It's also referred to as "throwing your chain." There are a few reasons why this happens, and it depends on a number of factors, including terrain and whether the chain is thrown off the front or back. Many cyclists and mountain bikers who have this issue resort to using a chain catcher, which is a mechanism that forces the chain back on the chainring. 
How MagSuck's Magnetic Chainring Works and its Benefits
The MagSuck system is simple but innovative. The chainring has small magnets located in between each tooth that keeps the bike chain in place. MagSuck currently sells chainrings for Raceface Cinch, SRAM GXP, M8000, and Shimano, cranksets, and cranks.
This not only prevents chain drop, but it also helps reduce noise since the chain doesn't move around as freely. The magnets also help maintain power because the forces to rotate two different chainrings—magnetic and non-magnetic—are the same. Finally, there will be less wear and tear on the chain because it will be held in place. 
Improve Activities with Magnets
Would you ever consider using a magnetic chainring? Beyond mountain biking assists, magnets have been used in many activities, including hiking, fishing, and road trips. For more magnetic hacks and products for your favorite hobbies and pastimes, visit our Fix it with Magnets blog section.