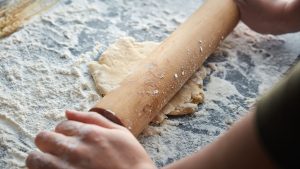 You may have heard of using salt dough to create homemade ornaments, but this DIY is fun any time of the year thanks to the addition of adhesive magnets! Whether you want to hold up mail on the fridge, make a chore chart, or decorate parts of your house with little trinkets, you'll love this magnetic DIY. While this is a great family-friendly activity, only adults should handle the magnets. 
What You'll Need:*
1 cup all-purpose flour

½ cup salt

½ cup water

Clear gloss

¼" x ⅛"

disc adhesive magnets

- comes in a pack of 20
*Makes about a cup of salt dough
Optional:
Acrylic paint

Stamps

Food coloring

Glitter
Steps: 
Measure out the ingredients and stir the flour and salt together in a large bowl.

Gradually add the water while continuing to stir until the dough becomes a Play-Doh-like consistency. You may need to add more flour/salt mixture or water; that's okay! 

If you'd like to add food coloring to the dough, do it now! 

Roll out the dough to the thickness you'd like — we'd recommend between ⅛" and 1". If you want to go thicker, you might need a higher pull force magnet like the

½" x 1/16"

.

Cut the dough into whatever shape you want your magnets to be. It can be circles, squares, flowers...anything you want! 

Place the shapes on a baking sheet and bake in the oven at 200 degrees. 

Baking time will be dependent on the size and thickness of your dough. It could take anywhere from 1.5-2.5 hours so we recommend setting a timer for 1.5 and checking on them! When they're done, they'll be the same color as before but hardened. 

Let the dough cool completely.

Decorate however you want with acrylic paint, stamps, you name it! 

Lightly sand the back of the baked dough so there's an area to attach your magnet.

Add an

adhesive magnet

to the back of each dough piece.

Allow the magnet to set for 8 hours for adhesive to cure and hold. 

Once everything is dry, coat the entire magnet with a gloss sealer.
Show Us Your Magnetic Crafts! 
We love sharing fun ways to use magnets. Have you found a way to use magnets around the house? Show us your magnetic DIYs by sending us an email or sharing on our Facebook page. For more DIYs, check out the magnets for crafts or fix it with magnets sections of the blog.