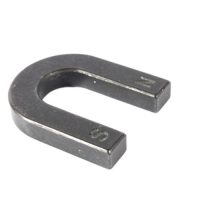 If the only magnets you've ever known are the ones you keep on your refrigerator, you may not realize how many different shapes and sizes strong magnets come in. Whether you want to organize your cubicle at work or your garage at home, don't settle for just any old magnet - go with one that's perfect for the task at hand!
As permanent magnets can be molded into a variety of shapes, there's a good chance you'll find the magnet you've been looking for at Apex Magnets. We sell a variety of neodymium magnets in a number of basic shapes, including cubes, spheres, cylinders, bars, blocks, discs, rings, and more! We also offer magnets in the shape of hooks, cones, and jewelry clasps. Whether you are looking for a magnet for your next DIY project or business endeavor, we've got the ideal magnet shape for you!
Additionally, the size of a magnet is just as important as its shape. Whether you need a magnet in the shape of a cube or a disc, we offer a variety of sizes that are ideal for any project. For instance, if you're purchasing a block magnet, we offer anywhere from 1/4" x 1/8" x 1/8" to 6" x 4" x 2".
Contact Apex Magnets Today!
Looking for the ideal magnet for your next DIY project, science experiment, or business endeavor? We've got you covered. At Apex Magnets, we offer a variety of neodymium magnets as well as custom magnets to best fit your needs. Visit our website today to see our available magnets or submit a custom magnet request form — we'll review your custom magnet request within 1-2 business days and give you a quote for FREE. If you have any questions about which magnet shape or size is best for your project, don't hesitate to call us at 1-304-257-1193 or leave us a message. Our team of experts is readily available to serve you.