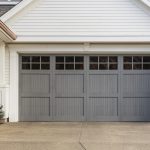 From holiday decor and gardening tool storage to full-on workshops, most garages are more than just storage spaces for cars. We've already shared how to organize your tools and such in your shed, so here are a few ways to use magnets in your garage for decor and small-item storage! 
DIY Key Shelf
Instead of tossing keys on a cluttered table, know that they're safe and secure with a magnetic key shelf. Make your own with wood, 3/4" x 1/8" disc magnets, and some other basic tools. 
Essentially, the magnets will serve in the place of hooks, and they will attach to the keyring, no matter the size. Thanks to the high pull force of the magnets, your keys will be secured. Read the entire tutorial here. 
Storing Front Porch Furniture 
Keep your patio furniture looking clean for years to come! Just grab your cushions and throw pillows, 3/4" x 3/4" x 1/8" block magnets), fabric scraps, sewing needle, thread, and magnetic tape, OR an iron strip and screws. If your cushions are heavier than 10.4 pounds, you will want to use multiple magnets or a block magnet with a stronger pull force. Next, read this tutorial to learn how to store your furniture with magnets!
DIY Cabinet Latches
Prevent cabinet doors from opening on their own, and provide resistance if there are any small children in your home, keeping them out of places that may house dangerous chemicals or tools. It only takes five materials (a drill, screwdriver, pencil, screws, and 1"x1/2"x1/8" Neodymium countersunk block magnet) to make a world of difference in your home! Interested? Read the entire tutorial here! 
Holding Garbage Bags
If you have an odd-shaped trash can, you can use magnets to keep the garbage bag in place. With a metal trash can, the magnets should secure to the sides easily. All you have to do is put the garbage bag in between the metal and the magnet. If you have a plastic trash can, you can use powerful magnets that attract through the material and attach one to the outside and one on the inside to hold the bag. 
Stay Organized With Apex Magnets 
There you have it! By bringing a few magnets into your garage, you'll see the difference in organization and cleanliness! Find out more ways to organize with Apex Magnets by searching through our fix it with magnets blog section.