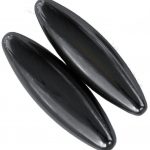 If you've ordered from Apex in the past, you're probably familiar with our most popular products, including discs, blocks, and cylinders. Aside from the commonly used magnets, we also have a category of miscellaneous shaped magnets that serve a multitude of purposes! From organizing your workplace to helping you relieve stress, these "other" shaped magnets will help you in your day-to-day life.
Square and Duck-Bill Magnetic Clips 
Magnetic clips are an easy way to organize papers in your office or home. At work, you can use our duck-bill magnetic clips - which hold up to 16 sheets of 8.5" x 11" paper - to hang the company handbook in the breakroom or to hold sign-up sheets for webinars, company potlucks, happy hours or other events. At home, try using some of our square magnetic clips on your fridge to keep track of your child's school paperwork or hold your bills and other mail. The square clips will hold up to 13 sheets of 8.5" x 11" paper on refrigerators and whiteboards. 
Bendable Silicone Magnetic Clips 
Our bendable silicone magnetic clips—which come in black and white—are super versatile for everyday use with the most common uses as paper clips or bookmarks. At work or home, you can also stick them on a whiteboard or fridge to hold notes. Just wrap the magnet around a marker to keep it attached to the whiteboard so you always have one on-hand free. When tidying up your electric cords or holiday lights, they can be used as a cord tie. In warehouses, they're a quick solution for shelf labels! They're easy to move and reuse, especially if you use a whiteboard marker that can be wiped off once you rearrange.
Buzzing Hematite Magnets (Torpedo and Sphere)
You may have heard of "rattlesnake eggs" before or have seen them at a science fair. When tossed carefully in the air, our torpedo buzzing hematite magnets are similar to the eggs. When they come together to create a buzzing or clicking sound similar to a locust or cicada. We also sell small and large sphere buzzing hematite magnets, which are great for people who fidget due to stress—simply roll these around in your hand for instant relief. 
Make the Most of Your Apex Magnets
Aside from these miscellaneous shaped magnets, we also carry wedge magnets, tapered block/wedge magnets, cone magnets, and ring/tube magnets for a variety of projects! At Apex Magnets, we're always thinking of different ways our customers can incorporate our products in their lives, whether it's at home, in the office, or even on the go. For access to our exclusive sales, sign up for our monthly newsletter.