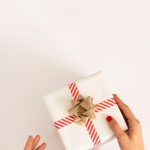 As if the holidays weren't stressful enough, 2020 brings us some added challenges. Whether you're meeting in person or having a Zoom celebration, we wanted to take some of the pressure off of you with our holiday guide this year. So you can get your home ready and gifts wrapped without ever leaving your home — unless you have to walk to the mailbox for your next Apex shipment! 
Get Your Home Ready
Fill the Home with the Faces of Loved Ones with Magnetic Photo Coasters or Picture Frames 
This year we could all use some extra reminders of those who are closest to us. As we all can't get together for the holidays as usual, you can still surround yourself with the ones you love by putting up pictures as a reminder of the good times you've had and a focus on the times ahead. While you're making some for yourself, make a few more sets to give out as gifts! 
For the coasters, which you can read the entire tutorial about them here,  all you need are 2x2 tiles, x-acto knife, holiday pictures, Mod Podge, Neodymium magnets, strong glue. For the frames, you'll want to head to your garage or eat a bunch of popsicles to gather up paint sticks/stirrers, 10mm x 1mm or 12mm x 2mm disc magnets, Matte Mod Podge, maps, scrapbook paper, and/or wrapping paper, hot glue gun, small paintbrush, a pencil, wood glue. Read the entire picture frame tutorial here. 
Turn Your Fridge Into a Winter Friend 
If you love to decorate every inch of your home when the holidays roll around or maybe have kiddos itching for things to do, this is the DIY for you! Essentially, you'll be decorating your fridge with construction paper or felt, glue, and neodymium magnets to create a reindeer, snowman, elf, or any winter friend you want! Using magnets versus tape will ensure that your fridge doesn't suffer any damage once you take your friend down! Read the entire tutorial here, which goes into what making a reindeer would be like. 
Holiday Decor and Video Call Backgrounds
Whether your family will see your home in person or through a video call, this blog is your go-to for decorating your house! You can find all three tutorials here to make DIY Twine Christmas Tree Magnets, a DIY menorah, and a magnetic vase or mason jar! Instead of running around a million stores, head to a craft or general store—as well as our online shop—and gather thin twine, thick cardboard, 6mm x 3mm disc magnets, and a glue gun or add some lights to a magnetic vase or mason jar to create a glowing centerpiece! Hopefully, you've followed the magnet vase DIY already so you can just add in a strand or two of string lights. The best part? You can decorate a shelf, wall, table, or window sill and use it as your backdrop for any calls all winter long! 
Magnetic Gifts to Give
This year, personalized gifts to show those who mean the most to us that we're thinking of them will be the most special. This guide gives you all the ideas for anyone on your list — from the rugged nature lover, strong-minded academic, and creative friends in your life. 
And if you're feeling crafty, you can go the extra mile by creating your own gifts! From a magnetic money clip to DIY mini book magnets, it won't take much to show someone how much you really care. Check out this guide to get started on some DIY gifts now. 
Find the Perfect Gift at Apex Magnets
These are a few of our fa-vor-ite (magnetic) things, but there are plenty more! You're sure to find something attractive for everyone on your list. Make sure to check out the rest of our magnetic gifts for even more ideas and sign up for our monthly newsletter to get magnetic DIYs, tips, hacks, and deals all year long!