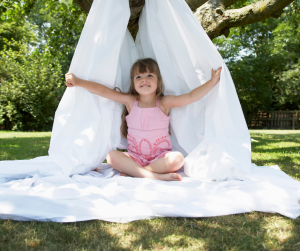 If you're looking for ways to have fun outdoors with the family but don't want to just buy another toy, check out these magnetic DIYs that are functional AND fun. 
Create your own backyard planetarium
This project takes a little skill and a lot of time and patience. You're only a Zip Tie Domes kit, projector, sewing machine, and sound system away from creating your own celestial oasis for you and your neighbors to enjoy. Though, we'd understand if you wanted to keep this all to yourself. Read the full tutorial here. 
Magnetic Tent Light 
Want some unique ways to celebrate the 4th of July? Just grab some magnets! One DIY that the whole family will love is a "chandelier" light for your tent using only 1/4" x 1/4" x 1/16" block magnets, string, glue, and a flashlight. 
All you have to do is glue one of the magnets to the string and the other to the bottom of the flashlight. Then, while inside the tent, tie the string to the poles at the top of the tent. Now, you have a removable light hanging inside your tent. You can turn on the flashlight and hold it up to the magnet attached to the string so it hangs above you. For a full tutorial and 3 other ways to make your 4th explode with fun, head to this blog. 
Magnetic Bird Feeder
Who doesn't love hearing birds chirping outside their window during the day? Make your home a bird's paradise with just an empty plastic bottle and lid, craft knife, ½" x ⅛" disc magnet, hot glue gun, and wooden pencils or bamboo skewers. The magnet will make it easy to remove the feeder and refill it when it's empty while the 1/2" x 1/8" disc magnet, with a pull force of 6.1 lbs, means you won't have to worry about it falling down! Read the full tutorial here. 
Show Us Your Magnetic Crafts! 
We love sharing ways magnets can help add some fun around the house! For more ways to utilize magnets this summer, read this roundup of even more DIYs and hacks! We love seeing your creations and takes on our DIYs, so be sure to show us your magnetic DIYs by sending us an email or sharing on our Facebook page. For more DIYs, check out the magnets for crafts section of our blog!