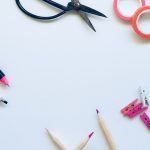 In our opinion, ceramic magnets are one of the most overlooked and underappreciated magnets. Not only are they strong, but they are usually inexpensive, making them a smart purchase for business owners and individuals alike. 
Ceramic magnets are used in everyday items like fridge magnets, loudspeakers, and musical instruments as well as more specialized items like surgical drapes and sweeper magnets. Their wide variety of uses is thanks to their resistance to demagnetization and corrosion, both of which can be really important when it comes to using magnets in a home or workplace with varying conditions. 
Their biggest disadvantage lies in their brittleness as they may break, crack, or chip upon sudden collision with other magnets or metals. But don't let that scare you away! Here are some of the best ways to utilize ceramic magnets to get the most bang for your buck. 
Kitchen Organization
Since ceramic magnets are inexpensive, they're great to buy in bulk without breaking the bank. Two of our favorite ways to utilize ceramic magnets in the kitchen is to glue ceramic magnets to the sides of cups and bottoms plates so they can be easily stored right on the fridge and easily accessible! Another fun craft is to add ¾' x ⅛' Ceramic disc magnets to puzzle pieces and stick them on the fridge! Keep in mind, adults should always supervise children when handling magnets. 
Quick and Easy DIYs 
Coasters
Because of their high corrosion resistance, ceramic magnets are great to use as coasters as you won't have to worry about water spilling on them and ruining the magnet! Learn how to create your own magnetic coasters here. 
Cactus Clay Magnet
With ceramic magnets' good demagnetization resistance, sun exposure and water damage won't ruin these adorable cactus clay magnets. Make your own here. 
Faux leaves
Since ceramic magnets are relatively inexpensive, they're great for simple DIYs like this one that utilize a lot of magnets. Find the full tutorial here. 
Tractor Maintenance
If you own a tractor to mow your lawn, there's a chance that you will end up with metal in the oil ––which is common and occurs due to the grinding pistons. To combat this, you can use ceramic magnets that will attract the steel bits in the oil. Use 1/2"x1/4" magnets in the oil pan and clean them out each time you change the oil in your tractor. Repeat once a year or for every 20-50 hours of use. 
The Ideas Keep On Flowin' with Apex Magnets
These are only a few ways to use ceramic magnets, and ceramic magnets are only one type of magnet we carry here at Apex Magnets! Read more about how to use our magnets in the magnets for crafts and fix it with magnets sections of the blog. As always, give us a call! We love talking about magnets. Seriously.