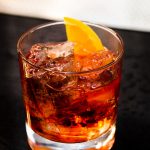 Home bars are on the rise this year. Elevate your current bar or start fresh with these magnetic DIYs. 
Magnetic stools / tables 
Don't have a lot of space or want to buy expensive stools? We've created a magnetic stool DIY where you can switch out the "legs" of each stool for differing heights, or to easily take it apart for storage when not in use! Check it out here. 
Magnetic Cabinet Doors
Bar essentials include a lot of glassware and glass bottles that will cause a mess if dropped. Keep your liquor cabinet shut with magnets so you won't have to worry about the doors accidentally opening. All you need are your cabinets, a drill, screwdriver, pencil, countersunk neodymium magnets such as 1"x1/4"x1/4", and #6 screws. For a full tutorial to magnifying your cabinet doors shut, reach this article. 
Marbles coasters
The coasters are magnetic, so you can stick them on your fridge when you aren't using them for easy clean up. Not to mention you can create them however you want! You just need: Polymer clay set, parchment paper, rolling pin, a round cookie cutter (or any other shape you want to use!), gloss glaze, 1/2" X 1/8" Ceramic Disc Magnets — you will need two magnets per coaster, and glue. Read the full tutorial here. 
Hanging Decorations
What's a bar without decor? Easily hang up posters, picture frames, and lights by using magnets. The size and shape of magnet needed will depend on what you're hanging, but for standard posters and frames, you can use 1/2" x 1/16" adhesive-backed disc magnets! For more tips on hanging decorations with magnets, check out this blog post. 
Keep bar tools and accessories within reach
Nothing's worse than being in the middle of creating a masterpiece and having to stop to find a tool. Lay a small sheet of metal flat inside one or more of your cabinets. Then, place a few hook magnets on the bottom of the cabinet on the outside, facing downwards. Before hanging anything, we suggest testing the strength of the magnet. Your tools will now be easily reachable and you might have even more space in your cabinets and on your shelves for cups to lay on top of the metal sheet! For a detailed tutorial, you can check out this previous blog post!
Apex Magnets Can Be Used Anywhere!
You can find the block magnets, disc magnets, ring magnets and countersunk ring magnets needed for all of the projects listed above on our site. Let us know on our Facebook page if you try out any of these bar upgrades or if you've used magnets to come up with your own hack. Share a picture while you're at it! For other fun magnet crafts (like our magnets in the kitchen article), check out our craft magnets section of the blog, or sign up for our newsletter for some ideas and coupons sent to your inbox each month.