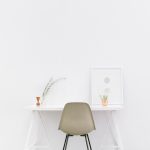 From Japanese artist Yukako Hihara using magnets to design anti-gravity shoes to the late Greek sculptor, Takis' art based in magnetism, magnets are always being used in creative ways! Now, Australian art and design brand  TOO Designs is stepping into the world of magnetism with interactive art kits. Here's how those kits work, and how you can create your own DIY version of it. 
Magnetic Art Designs
These magnetic art kits follow TOO Designs' aesthetic of minimalism -- with clean lines, geometric shapes, and bold colors but with the addition of input from the customer. The TOO D(ynamic) magnetic art kits are composed of metal canvases and magnetic pieces in a variety of shapes and colors. Basically, you can arrange the magnetic shapes any way that you wish, or look at their website for some inspiration. 
How to DIY This Art
While it's very convenient to purchase one of the packs above, re-creating this general idea of magnetic art is pretty easy to do! Just grab some magnets of all shapes and sizes -- we recommend anything less than 1" thick so it doesn't protrude from the wall. Narrow down your choice by using our popular size grid. Once you have your magnets, spray paint them with any color and let them dry before applying. 
Once you have your magnets the size, shape, and color you want them, get a sheet of metal that's big enough to fit into a standard photo frame and remove the glass. Replace the glass with the magnetic sheet inside and add the magnets however you want on the magnetic sheet. You can easily move the magnets around into the configurations you want, or, to change them up whenever you're in the mood. 
Design With Apex Magnets
We've talked about this before, but we don't recommend cutting magnets yourself. If you can't find a magnet shape you want, check out our custom magnet order form to get some ordered. We have so many home DIYs and crafts! Here are other places you'll find magnets in your house.