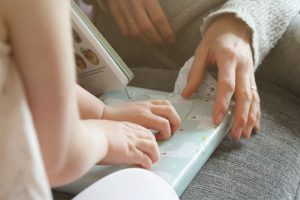 While one of the best gifts to give mom would be a day off, handmade gifts from her little ones comes in a close second. This year, give mom a gift that's not only thoughtful but functional — we're talking about magnetic crafts! As always, these projects should be done with adult supervision, with adults handling the magnets at all times. We've got two different sets of magnetic diys that mom will love — personalized fridge magnets and upgrades to your standard picture frame. Check them out below!
Personalized Fridge Magnets 
Map Magnets
Share you and your mom's favorite place or dream vacation spots with this easy DIY! Just grab some clear, round glass "rocks," Mod Podge, maps or printed images, 1 pack or more of round neodymium disc magnets, and a hot glue gun. Essentially, you'll cut the maps to be the size of the clear rocks, Mod Podge them together, and then glue a magnet on the back. You could also skip the rocks and opt for cardboard backing — just glue the map onto the cardboard, apply Mod Podge on the top of the map, and then glue a magnet on the back. Read the entire tutorial here. 
Rainbow Clay Magnets
Show mom how she adds color to your life with her own rainbow! You'll just need a craft knife, Polymer clay (in your choice of colors), 14mm x 2mm neodymium disk magnets, and superglue. Essentially you'll be rolling out the clay and shaping it into the rainbow form, placing them in the oven to bake, and then attaching magnets! Read the full tutorial here. 
Wine Cork or Tin Can Succulent Magnets
Give mom a gift that requires little maintenance — better yet, take care of the succulent for her all year long! Read the entire DIY here, but you'll basically just need some wine corks, succulents, and 10mm x 1mm disc magnets. Another option for your succulents are little tin can succulents! You can find the entire tutorial here, but the premise is upcycling a tin can and using 8mm X 1mm disc magnets to attach it!
Scrabble Board
With this simple tutorial you can repurpose an old Scrabble game and write mom tons of phrases, messages, or even play an ongoing family game right on the fridge! For this, you'll need about 100 2mm x 1mm neodymium disc magnets (or however many tiles you're using!), a Scrabble board game, and strong glue such as Elmer's glue, hot glue, or super glue. You can read the full tutorial here, but essentially you'll just be gluing the magnets on the back of the tile pieces, letting them dry, and voila! 
Three Ways to Upgrade Giving Simple Picture Frames
DIY Polaroid Picture Magnets 
Show mom how much you care with this memorable magnet that looks just like a polaroid. What you'll need: thick matte photo paper, adhesive-backed magnets, white foam board, multi-purpose spray adhesive, x-Acto knife, scissors. To find out how to construct your very own polaroid magnet, click here!
Wax Paper Photo Transfer Magnets
Impress mom with this rustic, farmhouse-style picture frame! You'll just need: Small-to-medium circular slices of light wood (like pine) with flat sides (found at most local craft stores), wax paper, plain, white printer paper, a computer and printer (with color ink), ¼" x ⅛" Disc Neodymium Magnets (we recommend four per pictures), hot glue gun, and adhesive glue. Essentially, you'll be taking printed photos and transferring them from the wax paper to the wood. Cut a portion of the wax paper and use the adhesive glue to stick the wax paper onto one side of the printer paper. Put the paper into the printer, so the ink will print on the wax side of the paper. Make sure you format the picture so that it will be small enough to fit onto the wood. The picture does not have to be round like the wood, but you'll want to consider fitting the entire image onto the wood. Then, you'll attach magnets onto the wood. Read the full tutorial here. 
 Paint Stick Picture Frames
To get started, follow the steps from this previous post to get your paint sticks decorated! Then, grab some wood glue and follow these extra steps: First, cut paint sticks to the desired frame size width. Then, line up the cut paint sticks next to one another until you reach the desired frame size length. Use wood glue to connect each stick together and let dry.  Glue or tape a photo or two onto the finished paint stick frame. Let dry and apply 2-4 10mm x 1mm or 12mm x 2mm disc magnets to the back of each frame. Read the full tutorial here. 
Create More With Apex Magnets
In just a few minutes you'll be able to show mom how much you love her! We'd love to see your magnetic DIYs — be sure to send us an email or share your crafts on our  Facebook page. For more DIYs and magnet hacks, head to our magnets for crafts section of the blog!