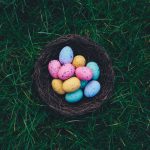 The last of the winter snow is melting, signaling that Spring is nearly here! To celebrate the changing of seasons, we have compiled a list of our favorite magnetic DIYs. 
After seeing these festive springtime crafts, you'll want to make them all! 
Magnetic Spring Wreath
Replace your winter wreath with a bright and cheery one with pastel flowers, tulips, and bright green vines to give your home a beautiful spring touch! The best part? This specific wreath is special because you can also use it as decoration for your fridge. 
We encourage you to go all out and collect fresh flowers from outside, but you can also go faux and visit your local craft store to find everything you need for this DIY. As for magnetism, a few small disk magnets will work perfectly to take your wreath from front door to fridge! Check out the full tutorial here!
Peeps Magnets
It wouldn't be a spring DIY without Peeps, the colorful marshmallow chicks and bunnies! So, we designed a special craft using this iconic Easter symbol as the centerpoint! You can easily make your own Peeps magnets using a few simple materials. All you need are some Peeps (chicks and bunnies) cookie cutters, polymer clay in pink, yellow, and black, a rolling pin, a few disc magnets, craft glue, and a cookie sheet. Check out the list of instructions when you have all the tools ready! They'll look good enough to eat — but please don't! 
Spring Flower Magnets
This simple, 4-step, 3 supply DIY is a perfect one to include the kids in. You can read the entire tutorial here, but here's a run down! First, take some fake flowers and pull them apart to separate the petals from the stems. Then, place the flower petals on a flat surface with the bloom facing down. Grab adhesive-backed magnets — or regular disc magnets with hot glue — and stick one side of the magnet on top of the flower bottom and press firmly.  If using hot glue, always have an adult perform the gluing to avoid burn or injury.
Magnetic Easter Eggs
This one is a fun twist on an Easter tradition— decorating eggs! Instead of using real eggs, though, this one uses polymer clay or salt dough and magnets. While you can use pastel colored clay or dough, we recommend using white polymer clay and paint it after baking!. This way, you can use paint to decorate them for a fun family activity. When all your magnets are attached, which you can read the full tutorial on how to do that here, you can hang your creations on the fridge or add them to Easter baskets! 
DIY Easter Basket Stuffers
Receiving Easter baskets are one of the most enjoyable springtime traditions. If you are looking for DIYs to fill this year's basket with goodies, look no further. Try making magnetic egg terrariums as an upgrade to plastic eggs. Instead of getting all colorful opaque eggs, grab a few clear ones. Then, all you need is a bit of dirt, moss and tiny flowers to put inside. Close the plastic egg terrarium and attach an adhesive-backed disc magnet to the back to hang them up around the house or at your desk for a fresh and colorful piece 
Share Your Creations With Apex Magnets
We don't know about you, but we can't wait to spend some time in the sunshine making a colorful wreath, magnetic easter eggs, and much more. Which springtime DIY are most excited to try? Let us know on our Facebook page and find more magnetic crafts on our blog!