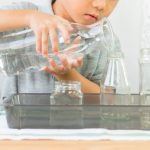 Do you need some calm and relaxation in your life? Let's be real — after 2020, all of our hands are raised. Sensory activities are often overlooked tools that both children and adults can benefit from. These magnet crafts only require a few items to make, but they'll provide you with hours of entertainment. 
Magnetic Field Sensory Bottles and Jars
Previously, we shared how to make a magnetic field sensory jar with a Mason jar or another glass jar/container, MICR toner, water, superglue, and 1"x1/8" neodymium disc magnets, which you can read about here. If you don't have MICR toner laying around though, you can create this same sensory bottle other ways, with objects you probably already have! 
Grab any clear plastic bottle or jar with a cap — cleaned out coffee creamer bottles, drink bottles, or Mason jars work great! 

Add in colorful objects — Pipe cleaners, buttons, paperclips, and marbles are great choices. 

After adding in your objects, fill about ¾ of the bottle/jar with water or baby oil. The addition of baby oil vs water can prevent any possibility of rusting. 

This is an extra step, but, we recommend super gluing the cap, especially if kids will be using the object. 

Finally, you can now run a bar magnet across the bottle and watch the magnetic materials float around! Shake it, turn it, and roll it around to watch the objects interact with each other. 

If kids will be using this bottle/jar, we recommend making a "wand" to hold the bar magnet for easy and safe handling and of course, only using it with adult supervision. To make the magnetic "wand," just glue a flat block magnet —

like our 10mm x 5mm x 2mm block

— onto a large popsicle or wooden stick and let dry! 
The best part is that you can add just about ANY objects, as long as they fit into the bottle/jar! Check out this Sea Life in a Bottle DIY we came up with:
Grab small figurines, such as animals or fish, that your child likes to play with

Attach a small magnet onto each of them where possible — we'd suggest

¼" x 1/16" adhesive-backed discs

. 

After letting it dry to ensure adhesion, add all of them to the bottle and fill it up about 3/4s of the way with water or oil. 

Finally, add some blue food coloring and you'll have a handheld aquatic adventure. 
Magnetic Slime
When you feel the need to create something with your hands but don't want to make a mess, magnetic slime can be a great option! Clear out an afternoon and pick up some ingredients like liquid starch, Elmer's glue (or any other "white school glue"), iron oxide powder, really strong magnets (any sizes or colors will work, they just have to be super strong!) in addition to things like paper towels, mixing bowls, and optional rubber gloves. After mixing a few ingredients, you'll have gooey, magnetic slime whenever you need it! Read the full tutorial here. 
Magnetic Sandbox/ Zen Garden
Zen gardens are fun to tend with the little rakes they come with, but it's also easy to spill sand everywhere. Instead of keeping a sand garden on your desk, try making a magnetic sandbox. To make your own, all you need is: 1 Shadow box, a few small sphere magnets, a bar magnet, and of course, some sand! Read the full tutorial here to get started making your magnetic sand creations. 
Magnetic Marble Maze
Sometimes the easiest crafts are the most fun! All you need is some construction paper cut into a rectangle — any size works but the larger the better! — a permanent marker, 2 Marbles (make sure they are magnetic), 1" x 1/16" disc neodymium magnet, a plastic cup, and glue. Essentially, you'll be drawing out a maze on the paper and then using the magnet as a guide to help the magnets through it! While it's simple in design, it'll hold the attention of even the most excitable little ones. Read the full tutorial here. 
Texture-Play Magnets
Take this tutorial for DIY map magnets but instead of maps, you can use different fabrics. This way, kids will be able to grab them off the fridge whenever they need to and they won't get lost! Some fabrics and items to think about adding include feathers, tissue paper, felt, silk, lace, sequin fabric, faux tile, and even carpet samples with differing textures and colors. 
Fidget Magnets
Finally, for older kids and adults, there are some magnets that are great for stress relief! At Apex, we sell a few different choices of fidget and buzzing magnets which you can find here.  Please Note: Magnets, including rattlesnake eggs and other buzzing hematite, are not toys. Always use magnets responsibly and with adult supervision when necessary
Show Us Your Magnetic Crafts! 
Along with being used for calming, relaxation, and focus, sensory activities can help with hand-eye coordination and fine motor skills as well! We love sharing ways magnets can help improve our daily lives. Have you found a way to use magnets around the house? Show us your magnetic DIYs by sending us an email or sharing on our Facebook page. For more DIYs, check out the magnets for crafts section of our blog!