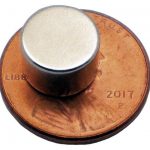 Purchasing magnets for your business can be an overwhelming task, especially if you do not know which magnets could be useful. Whether you already know or not, Apex Magnets is here to help! We have supplied thousands of business, industrial, and institutional clients within the U.S. and globally. With our expertise, we can offer recommendations and simplify the selection process for you. 
Neodymium Disc Magnets
Apex has over 100 options for Neodymium disc magnets! These circular, flat magnets are the most commonly used magnet shape. Neodymium disc magnets have significant strength—pull forces range from 5 ounces to 1174.9 pounds per magnet, while diameters range from 2 millimeters to 6 inches—and come in a variety of sizes, thicknesses, materials, and coatings, making it easy to find the perfect product for your next project. 
These versatile magnets can be used in many industries: 
To hang up knives in

kitchens

to free up counter space

To hang up

lights

, picture frames, posters, artwork, and much more!

Hold

fishing

rods in place on fishing boats

Classroom demonstrations to show

magnetic fields

 

To hang up magnetic signage 
Neodymium Countersunk Magnets
You probably are more familiar with countersunk magnets than you believe. Countersunk magnets look like washers with a raised surface and hole in the center. The wedge and the hole exist so the countersunk magnet (also known as countersink magnet) can be anchored in place with a single screw. We sell a variety of countersunk blocks with holes that allow you to use screws, nails, or bolts to attach the magnet to a different surface. 
These magnets come in two basic variations: all-magnet countersinks, which are solid pieces of magnet, and POT magnets, which house magnets inside steel casings. There are both advantages and disadvantages to both types of magnets, such as they are brittle– too many turns of a screw can cause the neodymium to crack. 
These strong magnets can be used in many different ways: 
Magnetic latches

to keep doors, cabinets, lockers, or basically anything you want to keep open or closed

Hold furniture in place on the floor 

To keep artwork attached to a wall

Hold up objects in workshops 
Hook Magnets
Hook magnets are hooks with a magnetic base that come in various shapes, sizes, and thicknesses. All you need is a metal surface to use a hook magnet—no need to deal with the hassle of glue or nailing something into a wall. Because of this, hook magnets are a practical and easy way to hang all kinds of objects both inside and outside. These compact magnets have a high resistance to demagnetization, and can even hold 200-pound objects! Since these magnets are very strong, it is important to make sure that you don't keep two magnets too close to each other to prevent them from shattering if they are attracted to each other. 
Hook magnets have many uses in businesses: 
Convenient and safe way to hang ladles, spoons, and spatulas, without taking up the necessary space in kitchens

Construction and window

washing to haul the platform down to safety

Hang string lights  

To hang towels, bags, and jump ropes on

exercise equipment 
Contact Apex Magnets!
Feel free to contact Apex Magnets today at 1-304-257-1193 or send us a message. Our experts can answer difficult questions and offer advice to help with your business applications. Don't forget, we offer custom magnets that will meet your specific business needs. Simply fill out the custom magnet request, and it will be reviewed within 1-2 business days. We will respond as quickly as possible! 
Also, be sure to check out our popular size grid to determine the magnet size you should purchase based on properties such as shape and thickness. This chart shows our most popular shapes and sizes of neodymium, nickel coated, magnets in a handy at-a-glance grid.