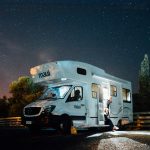 Summer weather is just around the corner! Before you head out into the great outdoors for your next road or camping trip, try out these magnetic hacks and crafts to make your camping experience as enjoyable as possible! 
Crafts 
Magnetic Holder
If you're in a camper, you're well-aware of just how much space is limited. By using magnetic paint as a primer to your cabinet or walls, you can reduce clutter by using magnets to hold up jars or plants! The magnets you use will depend on the items and jars you use, but we'd recommend at least a ½" x ¼" Countersink Ring magnet for item and a 1" x ⅛" disc magnet per jar lid. Along with putting items in the jars, you can add magnets to must-have items like bug spray or sunscreen and attach them right by the door for quick grabbing! To build your own magnetic holder, read the entire tutorial here. 
Campsite Marker
Most campers can relate to losing or damaging their proof of purchase for their campsite as they're often small pieces of papers that are susceptible to damage from the elements! Put your mind at ease with a DIY campsite marker. Simply put your proof of purchase or permit in a clear, plastic case. Then, attach a magnet; we'd recommend something like a 10mm x 5mm disc as you want to make sure it'll stay in place when exposed to rain or wind, to the back of the case. Now, you can attach the case to your camper or anything else that's magnetic near your site for easy access and a safe spot. 
Homemade Compass
Sometimes modern technology is not our friend when in the great outdoors. Make sure you're prepared by keeping a DIY compass in your camper at all times! This DIY is a little intensive, so head to this blog post to read the full tutorial. 
Magnetic Tent Light
Elevate your camping decor with a "chandelier" in your tent! You only need 1/2" x 1/4" x 1/8" block magnets, a ¾" x ⅛" adhesive-backed disc magnet, some string, and a flashlight. To get started, attach one of the magnets to each piece of string you want to be hanging (you can either tie the string around the magnet or glue it.) Then, connect the other ends of the strings to the bottom of the flashlight by using glue or tape. Once you have all of the strings attached to the flashlight, attach the adhesive-backed magnet to the flashlight's base. Inside the tent, tie the string to the poles at the top of your tent and place the flashlight at the top of the tent (with the magnet attaching to one of the poles). The light and strings will then drape down and show shadows throughout the tent. 
Hacks
Secure Your Tablecloth
The last thing you want is for your food to fly away when your tablecloth inevitably blows with the wind. Save your sanity and your food by using four to eight ½" x ½" x ½" cube magnets to keep the cloth secured. After laying out the tablecloth, use one or two magnets at each corner -- placing one magnet on top of the table and one underneath. Remember, the number of magnets needed will depend on the material of the table being used -- wooden tables will require more magnets! Try it out with 1 magnet on each corner and adjust if needed. 
Car Camping Screens
Keep bugs out in a pinch while enjoying the fresh air! Grab a friend (this is probably a two-person job) and some mosquito-repellent fabric/screen and head to your car or camper. Place the fabric/screen flat against the window, outlining it so all of it is covered. Place disc magnets along the perimeter of the screen and attach a piece of duct tape on top to make sure it'll stick. Once you attach magnets to all the corners, your screen should stay put to keep bugs out so you can open the window. You could also use sewing magnets to sew them in place with the screen if you want a cleaner look. Confused? Find the full tutorial here.
Create More with Apex Magnets
Another way to bring magnets into your camping trips -- buy magnetic souvenirs! Most campgrounds will have a store. Search for magnets with the campsite's name or the state that you're in. Stick 'em to your trailer or at home on your fridge to keep your camping memories top of mind for years to come. For more magnet tips and tricks, check out our fix it with magnets or magnets for crafts sections of the blog.