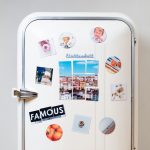 When we say "magnet," your first thought is of the things holding up invitations and art projects on your fridge. You can buy fridge magnets at almost any store, but did you know you can easily create your own magnets out of basically anything? Here are some of the most unique things we've made into fridge magnets and the DIYs so you can do it too. 
Chances are, you have a few paint sticks lying around your house from old renovation projects. Instead of (finally) throwing them out, repurpose them for a simple and colorful DIY. All you'll need is paint sticks/stirrers, 10mm x 1mm or 12mm x 2mm disc magnets, matte Mod Podge, scrapbook paper, and a hot glue gun. Read the full tutorial here. 
Not sure where to keep your spices, toothpicks, or nails? Grab some Tic Tac boxes, a hot glue gun, and Multiple 8mm x 1mm disc magnets to make this simple DIY. Take things up a notch with chalkboard labels to add a personal touch, but that's not necessary! Read the full tutorial here. 
You've probably gathered more ornaments in your lifetime than any tree can fit. Instead of leaving the extra to collect dust in the box, use some glue and neodymium magnets to make festive fridge ornaments! Check out the full tutorial here. 
This one takes a bit more imagination. With some clay or smooth, round rocks, glue, paint, some neodymium magnets, and googly eyes, you can create little creatures that live on your fridge. The size and shape of the magnet will depend on the rock you use, but as a general recommendation, use a magnet with at least 6 lbs pull force, such as our 12mm x 3mm disc magnet. Read the full tutorial, and check out some bonus monster ideas here. 
No, we're not putting a magnet on an actual Game Boy. Read the full tutorial here where you'll use paper and magnets to re-create a Game Boy design on your fridge. Sure, it's not as fun, but it's definitely more practical. 
Bring the outdoors inside and hang your reusable shopping bags in style with tree branches! The best part is that you can use any size branch, as long as it has a protruding fork. Not sure what we mean? Read the entire tutorial here. 
Have some wine corks sitting around (or don't mind gathering some?). Simply attach some 20mm x 3mm disc magnets to them for a cute fridge display. The best part? You can use the corks as planters and add little succulents in them to go the extra mile of cuteness! Create your own wine cork succulents with this tutorial here. 
Show off your favorite places or dream vacation spots on your fridge for daily inspiration. Just grab some clear, round glass "rocks," Mod Podge, maps or printed images, 1 pack or more of round neodymium disc magnets, and a hot glue gun. Essentially, you'll cut the maps to be the size of the clear rocks, Mod Podge them together, and then glue a magnet on the back. You could also skip the rocks and opt for cardboard backing — just glue the map onto the cardboard, apply Mod Podge on the top of the map, and then glue a magnet on the back. Read the entire tutorial here. 
Keep the greenery of spring and summer in your house all year long! You'll just need clay, artificial leaves, watercolor paints, 1/2" X 1/8" Ceramic Magnets, hot glue gun, rolling pin, and a cookie-cutter. Check out the full tutorial here. 
Hear us out… mouse traps can make really stylish magnetic clips. Believe it or not, it's easy to create magnetic clips for your fridge that are both fun and functional with just magnets, mouse traps, some common household supplies, and a little bit of creativity. Give it a try with the full tutorial here. 
Get DIYs, Magnet Hacks, and more with Apex Magnets
Here at Apex Magnets, we're always trying to make things magnetic. To stay up to date on all the unique ways we're using magnets in our everyday lives, subscribe to our newsletter!