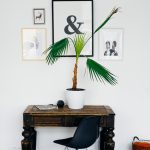 Feel like your house needs a refresh? Instead of going out and buying expensive furniture or decor, give some of these home decor magnet projects a shot! 
Hang Photos and Wall Art
Say goodbye to nails and holes in the wall thanks to a few disc magnets. You can read the entire tutorial here, but, you'll simply glue one magnet to whatever you're wanting to hang and then use a disc magnet with adhesive. Easily re-decorate thanks to the magnets as you can keep the wall magnet attached and replace the other piece. 
Magnetic Paint
Magnetic paint on the walls or furniture, such as cabinets, is essentially added fridge space! Add magnets, children's drawings, reminders, and more without the worry of them flying off when opening the fridge door. 
Remember that neodymium magnets should not be handled by children, so we recommend hanging things out of reach of children, leaving them traditional fridge magnets to play with at the bottom. Read our entire tutorial here about applying magnetic paint. 
Maximize Small Spaces
Living in a dorm room will teach you a lot, but one of the most looked-over things is how to live in a tiny space. Even if you're not in a dorm, you can benefit from temporary magnetic projects like tea tin storage containers, Polaroid-style wall magnets, or an indoor vertical garden. Check out each of these projects and more here!
Bathroom Storage
Get bathroom decor that doubles as additional storage space! Create your own magnetic makeup board –– You can find a more detailed tutorial here, but all you need is some ring magnets, a metal backing, and a frame –– you can get any sizes of these that you want. Or create a mason jar storage shelf to add flowers or something practical like bobby pins or cotton swabs. For all of the bathroom decor inspo, head here. 
Keep the Family Organized 
Stay organized with the added benefit of easily changing plans with a DIY magnetic calendar. All you need are some magnets, Washi tape, Sharpies, and a magnetic surface! Don't want to use your fridge? Use the magnetic paint tutorial above to put this calendar anywhere! It's really simple –– grab seven disc magnets and use a label created from sticky note or paper and pen that has each day of the week written down. Attach the magnet to the paper with glue. Next, use pin magnets with labels of the numbers of the days in the months –– you can do this by adding a sticker with each number, or, you can use glue to attach sticky notes or paper. Each time you have an event you want to remember, add a sticky note with a magnet in the spot under the date.
Switch Up Your Lampshade
Spruce up your lampshade easily with magnets and accessories of your choice –– we recommend things like flowers for spring, hearts for Valentine's Day, bees, or other animals. Glue each accessory to the back of a disc magnet and let dry. Then, attach each accessory by securing a second disc magnet on the inside of the lampshade. Find the entire tutorial here. 
Bring the Outdoors In
You can use faux flowers and plants or grab some straight from outdoors. All you'll need is a mini grapevine wreath (which you can pick up at your local craft store if you're not so lucky to have grapevine in your backyard), flowers (and any other decor pieces you like such as palms, moss, or grass), clippers, a hot glue gun, and multiple disc magnets. Just lay the design how you'd like on the wreath, weave everything through the wreath, and hot glue it all to stick. Then glue the magnets on the backside and let dry. Now you can hang it anywhere that's magnetic! 
The best part is you can re-use this tutorial for each season –– using fake snow and poinsettias for winter or sunflowers and pumpkin leaves for fall! 
Stay Organized with Apex Magnets 
There are many common household problems that could easily be solved with magnets. If you have your own magnetic hack, we'd love to hear about it! Leave us a post on our Facebook page with your hack for a chance to be featured in an upcoming blog post.