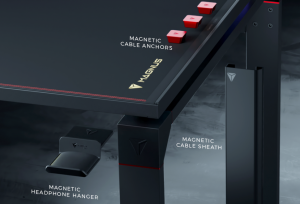 We've long been sharing ways to "fix it with magnets," so we love seeing companies and designers utilizing the power of magnets to make their customers' lives easier. Secretlab recently became one of these companies when they expanded beyond gaming chairs to their newest gaming accessory — a magnetic desk!
Image credit: Secretlab

Background 
Secretlab was founded by Ian and Alaric who were dissatisfied with the gaming chair market. Formerly professional StarCraft II players, the duo knew too well the toll that gaming can take — like backaches from prolonged sitting —  so in 2014, they created Secretlab and a gaming chair with gamers in mind. Their latest expansion — Magnus Metal Desk — is continuing their vision of providing the best gaming experience in the industry. 
Magnus Metal Desk
It goes without saying, this desk was designed specifically for PC gamers. Secretlab is using its stainless steel desk to showcase the power of magnets — providing customization options through magnetic accessories. The magnetic capabilities of the desk include:
Cable management with magnetic cable anchors, magnetic cable sheath, and cable fastening straps

Magnetic hanger attached to the front to display your headset

Magpad, a magnetic leatherette desk mat with a full-coverage magnetic bottom that anchors itself to the desk for a sturdy fit 

Magnetic RGB lighting that

features 90 LEDs per meter that can shine with seven different colors and four pre-built lighting effects at variable brightness levels
Other specs of the desk are: 
59-inch-long top and a smaller 47-inch-long version in the works

27.5 inches wide, stands 29 inches tall, and can be manually set about 0.8 inches higher 

Can hold up to 220.5 pounds
With shipment dates of early Fall 2021, we expect more brands to follow suit in the coming years. You can read more about Secretlab's desk here. 
DIY Versions Using Apex Magnets
As with anything, this cool gadget can be expensive. If you don't want to wait until Fall, you can recreate a similar idea with some of our magnets! 
Portable Magnetic Desk
This desk is small and efficient making it perfect for a kitchen add-on or WFH desk. To create it, you'll need 1" x 1/4" neodymium disc magnets, 2 standard kitchen cutting boards, 12" piano hinge, Paracord, clear gorilla glue, and screws. Essentially you'll be using the cutting boards as a base while the piano hinge and Paracord allow for portability. Read the full tutorial here. 
DIY Murphy Desk
You may have heard the term "murphy" used in reference to the Murphy bed, named for its patented inventor, William Lawrence Murphy. This bed folds up to fit into a vertical wall; this DIY follows suit, allowing you to fold up your desk when you're not using it. For this DIY you'll need a shelving unit, flat piece of wood, wooden frame, nails/ screws, drill, hinges, magnetic latch, 1" x 1/4" neodymium disc magnets, a chalkboard, and chalkboard paint. This one's a little bit more advanced, so you'll want to head here to read the full tutorial.
Keep Cables in Place
Keep your cables from getting tangled with a few compression springs that fit around your wires, some glue, and 22mm x 11mm Disc - Neodymium Magnets. Take the coil and twist it around the base of the cable near the connector until it fits snug around it. Next, glue your disc magnets to the back of your desk or a spot that is relatively hidden from view. Once the glue is dried you can easily organize your cables by magnetizing the cord with the compression spring on it to the magnet! 
Magnetic Discoveries and DIYs with Apex Magnets 
If you're looking to make some small adjustments to your desk, check out this article featuring how magnets can be used to spruce things up. We love sharing ways magnets can help improve our daily lives. Have you found a way to use magnets around the house? For more DIYs, check out the magnets for crafts or fix it with magnets sections of our blog for more of the latest magnetic discoveries.