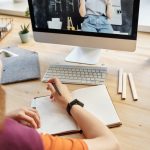 We know educators everywhere are doing their best in this virtual and hybrid-teaching environment, and we want to do anything we can to help make things a little easier. Along with these magnetic crafts and hacks being super easy and affordable — using mostly things you already have in your house — they're easily removable, so you won't have to worry about putting holes in your walls. Plus, you can take them into the classroom when the time comes! 
Revamp Your Space
Magnetic Calendar and Organization Station
Create a monthly classroom calendar as big as you want by using 18mm x 2mm disc magnets, flathead pin magnets, Sharpie/pens, sticky notes, Washi tape, and a magnetic surface. This can be a whiteboard or a large cookie sheet! Basically, you'll use disc magnets, Sharpie, and paper to create labels for days of the week as well as a pin magnet labeled for each date. Then you'll grab your Washi tape and create a calendar-like grid. To make one grid that can be used no matter what day of the week a month will fall on, you'll need 8 vertical lines and 7 horizontal lines. Remember, each gridded square will represent a day of the month so be sure to space the tape enough apart to fit sticky notes on the days! 
Once you create your calendar, you can add sticky notes or pin papers under each day you need! You can also take a small, paper weekly calendar and stick some magnets on the back using glue to attach it to your desk for easy access to your to-dos and daily lesson plans without the worry of them falling off the desk. 
Add Flair to a Blank Wall
Make your whiteboard, chalkboard, posters, or anything else you want to hang up on the wall eye-catching by creating wooden stick frames. You'll just need 4 wooden sticks per frame, at least ½ inch wider than the poster, 8 magnets per frame, wood stain or paint of your choice, glue, and twine. Check out the tutorial with a video here. Need some inspiration of posters? You can never go wrong with the periodic table!
Maximize Storage
Did you know you can overhaul a filing cabinet or any storage container with some disc magnets? When you need extra storage space, grab some ½" x 1/16" adhesive-backed disc magnets and attach them to the side of the storage system. If you have a filing cabinet that's magnetic, you can skip this step! Then, attach another adhesive magnet to the back of a folder. Then, you can easily store your lesson plans or notes without the worry of having them fall out. 
For an easy way to create a specific place to hold your miscellaneous office supplies, including paper clips, binder clips, staples, and push pins, build a mason jar storage shelf! If you're back in the classroom, think about easily adding bins of single-use wipes, hand sanitizer, or extra masks close to the door by attaching some disc magnets to any storage bin. 
Book as a Folder
One of our customers sent us an innovative solution that makes reading a physical book easier with—you guessed it—disc magnets. We're taking it a step further by using two disc magnets to not only hold your place but also hold your lesson plans and prevent them from getting lost in the shuffle. 
Easy Letters and Numbers
For this magnet hack, you'll just need a whiteboard or cookie sheet, small adhesive magnets, and wooden letters, numbers, or even Scrabble pieces to have a visual when spelling out words or phrases or teaching math. You can also print out name tags and add magnets to them to display attendance, participation points, questions, or anything else you may need to share during the day. 
Demonstrate Magnetism in the Classroom
If you teach science, magnetism can be difficult to explain without having a useful visual to accompany your lecture or lesson plan. By using a disc magnet, along with PVC tubing and a brass or aluminum tube, you can demonstrate magnetic fields for your students, even over video! Check it out here. 
For a great visual, check out our 3-D Magnetic Field Demonstrator which uses iron filings in a clear acrylic case to show the full magnetic field of a magnet. To use, simply shake the demonstrator up and down and the iron filings will form around the magnet in stunning detail. Rest assured, the filings are completely sealed in the case at all times, whether closed or open, and never need to be replaced.
Once you're back in the classroom, you can have kids see the demonstrator in-person or check out these magnetic hacks and crafts. 
Supporting Parents 
We know teachers do more than just support their students—they also support parents. To help parents make their kid's "classroom" more engaging, give them this article to read. Not all students have the same at-home education experience or resources, so we wouldn't recommend assigning any of these experiments. If a parent asks for more learning ideas, though, this article has projects that use items they probably already have in their house.
Let Us Know How Apex Magnets Can Help
We applaud all educators going through hybrid teaching this school year. Turning your home into a classroom can be difficult, but with these crafts, you can create an atmosphere that'll make your students feel they're in a classroom! If you have any other ideas or have been using magnets in your hybrid classroom, we'd love to hear about them on our Facebook page!