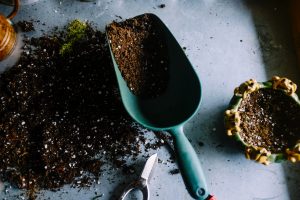 'Tis the season for gardening! Over the years, we've shared a few magnetic hacks, tips, and crafts to help in your gardening efforts, but we wanted to do a round up of a few of our favorites. 
Magnetic Vertical Garden
Want a garden but don't have the space? Use the power of magnets to create a space-efficient vertical garden!  You'll just need: plants of your choice (air plants, succulents, herbs), flower pots with at least one flat side (such as these gray stone flower pots or white ceramic hexagon flower pots), soil (not necessary for air plants), 1-x-1-16-disc magnets, and strong all-purpose adhesive. Read the full tutorial here.
Using Magnets in a Greenhouse or Nursery
When you're in the nursery business, your plants are your products, so you don't want a method of storage or organization that distracts from their beauty! You can read all the tips here for how to optimize storage while being aesthetically pleasing in your greenhouse or nursery, but one of our favorites is to utilize hook magnets, like our swivel hooks with 18 lb pull force! Swivel hook magnets are perfect for maximizing organization or to build an overhang with wood and metal sheeting if you need your irrigation system to be closer to the plants.
Organize Your Garage/Shed With DIY Cabinet Latches
If you use your garage or shed to store tools, fertilizer, or any other things you wouldn't want the kids to reach, this tutorial for DIY magnetic cabinet latches is for you. It only takes five materials (a drill, screwdriver, pencil, screws, and 1"x1/2"x1/8" Neodymium countersunk block magnet) to make a world of difference in your home! Interested? Read the entire tutorial here! Did you know — you can also buy a large neodymium magnet to hang heavy gardening tools like shovels, rakes, and hoes as the large magnet will attract to the metal wall of your garage and still be strong enough to hold several pounds worth of metal tools. For more garage or shed magnetic hacks, read this blog.
DIY Magnetic Plant Markers
We've all accidentally forgotten to label the contents of our garden. No? Just us? Well, learn from our mistakes and make your own magnetic plant markers. All you need are stakes or forks, mason jar lids, 1- 1/2" X 1/4" Ceramic/Ferrite Disc Magnets per marker, durable, waterproof adhesive, paint, stencil, or stamps. Get started with the tutorial here.
Apex Magnets Can Be Used Anywhere!
There you have it! Let us know on our Facebook page if you try out any of these hacks — be sure to share a picture while you're at it! For other fun magnet crafts and hacks, check out our magnets for crafts section of the blog or sign up for our newsletter for some ideas (and coupons) sent to your inbox each month.